Let's just get down to the brass tacks, people - I LOVE THIS PLAY KITCHEN!! My kids and nieces have given me many hours of enjoyment just watching them play house together. They have cooked countless meals, washed innumerable dishes, served up gourmet meals - all with huge smiles and lots of love. I couldn't get these kinds of results with my real-life kitchen helpers, let me tell ya! ;)
The
Guidecraft
Hideaway Country Kitchen is a sturdy, wooden, fold-it-up and hide-it-away play set for $200. I admit, I would normally cringe at the price tag, but after seeing how well this product is constructed, and knowing how long it will last, I highly recommend it.
The product folds up to a slim six inches - perfect for under a bed or in a closet.
The package was delivered to my house in very good condition. It was packed within three boxes, so I was sure there would be no dents or anything. We weren't sure how much assembly would be required, but soon found out - a lot! :) Nothing too hard, though. In fact, Connor did the majority of the assembly.
My little man hard at work!
For future purchasers, take note: HAVE A POWER DRILL HANDY!! We did not, so it took us about 2 to 3 hours. If you have experience in assembling toys and a power drill, you could put it together in less than an hour. The only part that was troublesome for us was the stove knobs. I am still worried they will loosen up and fall off, but we shall see...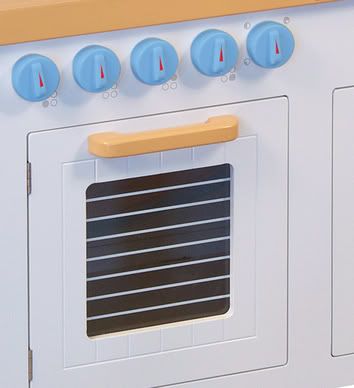 The stove knobs were a real booger to get on there!
One thing that did concern me was that I couldn't find any instructions. It wasn't a problem, however. I just got on Guidecraft's website and pulled the assembly instructions right up. I thought maybe they were going green like so many other companies. However when we got to the bottom of the hardware box, we found them. Better late than never, I guess!
We did it! And look at all the storage - you could fit two 3-year-olds in there! Seriously, I've seen it done...
Once we got it together, we scoured the house for toy dishes. I must say, I didn't think that would be a problem. But I guess anything we've had in the past had been lost or broken. So they used tupperware and old spoons of mine till I could pick up some nifty food and dish toys. They have really enjoyed this toy. I love it when they can act out what they see us doing; playacting is so important to toddler development. And I think I may be raising some great future chefs...not to mention an awesome carpenter!
** Don't just take my word for it! Check out what some of my fellow TOS Crew Members had to say
here
.
** Disclaimer: I received this product via TOS Homeschool Crew in exchange for an honest review. I was not required to write a positive review; all opinions stated are my own and my children's.