NotebookingPages.com
has given me the opportunity to review their
Lifetime Membership
. Let me tell you, this could be a game changer...
Have you ever experienced homeschooling burnout? Like you've done it all before, with minimal results, with multiple kids? Or have you hit a brick wall, thinking you were going down the right path, but then WHAM!? Most moms have, and Notebooking Pages founder Debra Reed explains very simply just how it happens. We all fall into the trap of busywork - those things we are told we are supposed to do because that's how it's always been done...even if they don't reap any positive benefits for our students. Busywork can look and be different for every homeschool family, but it is essential to the livelihood of your homeschool to identify and eliminate those areas. She, like most of us moms, wanted to give her children an enriching education while feeding a love of learning, but she was more often than not drying tears of frustration or mopping up meltdowns. Been there? I know for certain that I have. And I don't want to continue to do so.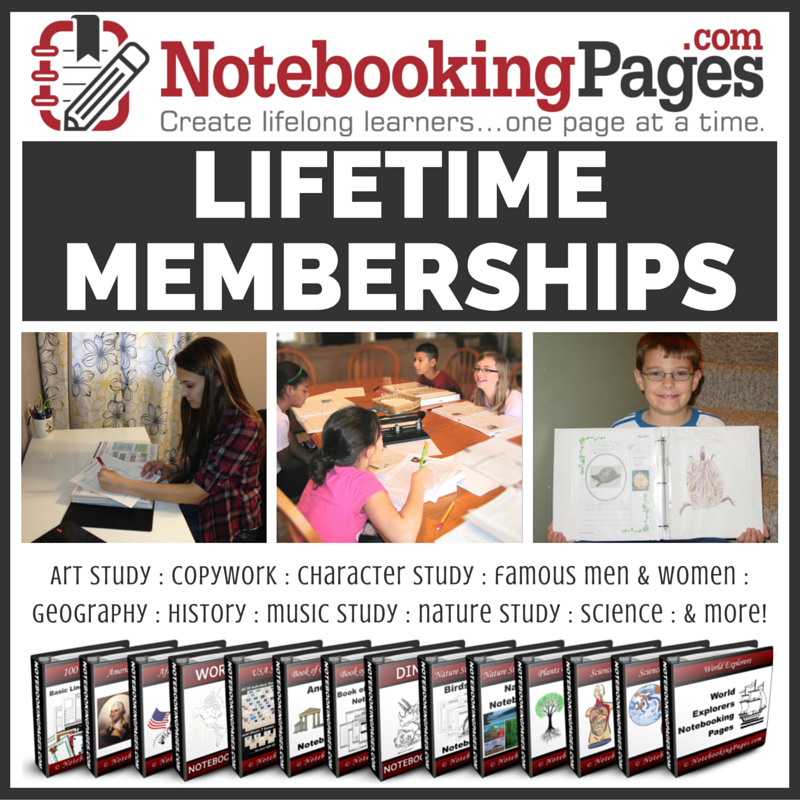 Notebooking is a pretty straightforward concept that can be incorporated into any teaching methodology. It can be as simple or as detailed as you want it to be. Do your kids love copywork? Great! Do they enjoy freestyle writing assignments with open-ended topics? Fantastic! Do they love to research and research a topic until they know absolutely everything about it, but don't have a way to compile all that they've learned? Even better! Notebooking can work for your family, and it will be amazing to you what they will put together. Notebooking essentially is the compiling of personalized learning. Each child's notebook will be different from another's, even those working side by side. They will put together a type of scrapbook with their own personal touch on whatever topic they are studying. It will not only be a portfolio of what they've learned, but a treasured memory for them to hold up with pride. The notebook is free to contain bits of poetry, their own observations on a subject, pictures, drawings, timelines, and so much more.
Now I'll be the first to admit that this simple system seems a little too good to be true. And I'll even say that I was overwhelmed when I started receiving all the introductory emails with my membership. But when I started digging through all of the information that Debra sent me, I started seeing the potential benefits to incorporating notebooking into our day. The website has many tutorials and videos that will help you get started and to understand the process in which notbooking can benefit your students. Debra lays out a very simple plan of attack: narration and notebooking.
Narration is basically you reading to your children and them retelling you what they have learned. Or in older children, them going to read something then coming to report back to you on what they've read. This even works for documentaries or historical biography shows (which is Canon's favorite way to learn). If narration is completely foreign to you and your kids, don't panic. They will improve the more often you do it. Slow and steady wins the race...
Notebooking Pages has thousands of pages to choose from, in nearly any category you can imagine! Just a few of what we've discovered so far are:
Bible character studies (we are studying the Judges right now)
Animal science (Canon is really into sharks right now, Caleb chose snakes)
Themed lined papers for copywork (Connor is working on poetry memorization)
Patriotic designed papers (great for our Elections study)
Musical designed papers (Chloe loves all things music and chose some pretty papers to summarize some books)
Ancient Greek Cultures (Canon and Caleb love Greek mythology)
I know we've barely scratched the surface as to what all is available to us on this website. There are so many pages, not to mention everything in the Free Resource Center. I am excited for the kids to have so many creative ways to express what they've learned, and I can't wait to see what they create next.
To follow Notebooking Pages on social media, click on these links:
Don't just take my word for it - check out what some other TOS Reviewers thought here: