"You homeschool?? You must be crazy!"
"You can always send them to public school if it's too much for you!"
"I don't know why you are tired. You're not a working mom!"
Ever heard any of these comments? I'm sure if you homeschool, you have - plus a million others. And if you are anything like me, it has been discouraging and hard to keep the smile on your face or find the appropriate, love-sprinkled response. The fact is that yes, I homeschool my children. No, I am not crazy...at least not completely. And no, I'm NOT home all day. But when I am, I am teaching four different grades at one time, plus balancing a dozen other things. Some days, I just need someone or something to lift me up instead of push me down.
Deeper Roots Publications
has published a little book that has done exactly that.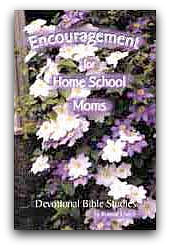 "Encouragement for Homeschool Moms" ($7.95) is a 31-day devotional that speaks directly to the heart of homeschooling moms, written by a homeschooling mom. Bonnie Lisech has been in my shoes. She understands what I'm feeling on those chaotic days when nothing has kept to schedule. And she also knows that the life we have been called to is amazing, precious, and honors our Heavenly Father. She attaches relevant scripture to topics I deal with on a daily basis. Feel overwhelmed? Inadequate? Like a failure? I know I do at times. Regardless of outsider's opinions, those of us who homeschool know it is hard.
With EFHM, these small moments with Jesus have turned my mood around. On the mornings that I've been in His Word before we start our busy day, I'm more settled. I'm in a better frame of mind and have more joy in my life. These scripture lessons are short, sweet and straight to the point - or heart, as it seems for me. I so wish I was a better organizer of my time. I wish I had an hour or more to spend with my Father every day. But the fact is, I don't. I try to make it a priority, but I inevitably fail after a few days. With EFHM, I spent 10 to 20 minutes in the Bible while the kids ate their cereal. If I couldn't finish the journaling, I didn't beat myself up. I think quality more than quantity of time is emphasized with this little devotional. Making Him my top priority at the beginning of the day reminded me that He's right alongside me ALL day long.
Here are Bonnie's words: "My prayer is that these studies in God's Word will build you up and cause you to be the example of Christ to your children that only knowing God intimatley can produce." I believe this book will bless your heart. Or you could bless a friend!
My little blessings! God has given Kelly and me such a huge responsiblity, but such a blessed life...
** To check out more Deeper Roots reviews from my fellow TOS bloggers,
click here
.
** Disclaimer: I received a copy of "Encouragement for Homeschool Moms" via TOS Homeschool Crew in exchange for an honest review. I was not required to write a positive review; all opinions stated are my own.