If you're like me, you sometimes run out of ideas for Family Fun Night. Playing the same old games for the 430th time seems to lose its appeal, and yet you want more interaction with your family than just a movie night provides. It's especially hard to find a game that will entertain a wide range of ages like we have in our large family. That's why I was excited to review two new games from
USAopoly
We were sent two games:
Tapple:Fast Word Fun for Everyone
and
Wonky: The Crazy Cubes Card Game
.
Tapple is a game of wits and speed that keeps you quick on your feet, racing against the timer and your opponents. The board game looks like a wheel with letters from the alphabet on individual "tappers". The Tapple wheel has 20 letters surrounding the base. The six missing letters are Q, U, V, X, Y and Z. These are the least common letters words begin with in English. To begin the game, you receive a card with a topic. Topics can range from "Capital Cities" to "Pizza Toppings". You and your opponents must come up with words under that topic beginning with those letters. If you use "A" on your turn, for example, you would press the "A" tapper. No one else can use the letter A for that round. You have 10 seconds per turn. If the timer beats you, you're out of the round. Whoever wins the round receives the game card, and the player with five cards first wins the game. Tapple is a lot of fun to play, even for the younger children. Caleb is 7 years old. He is reading well, but does not always spell the best. In this game, all he has to know is the first letter of the word he's thinking of. The speed part of the game makes it more enjoyable and more competitive for the older kids. We've played Tapple many times now and have enjoyed it a lot. Everyone has had fun spending time together and competing against one another. One of the best things about this game is that it isn't limited to how many people can play at a time. We can all play at once, no one is waiting for a round to be over before they can play, and there are no game pieces to argue over!! This is a big deal for a family our size, usually. I have seen Caleb and Castle even get it out and make up their own games with the fun board. Of course, Castle isn't spelling yet and doesn't even know his letters, but he loves the timer and pressing down as many letters as he can as quickly as he can!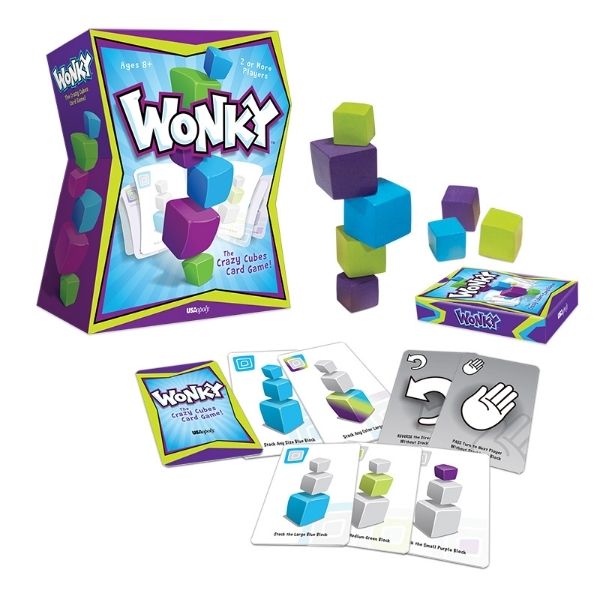 The other game we received was Wonky: The Crazy Cubes Card Game. Wonky is a stacking challenge game, and so much more. The game comes with nine colored blocks of three different colors and sizes and a deck of playing cards to direct the game. For example, a playing card has two components: color and size. So if you have the card that marks the green, mid-sized cube, you would play that card then place that cube.The next player would stack another cube on top of yours, building a tower. Sound easy enough? Think again! The cubes are not perfectly shaped cubes... as you would expect each piece is WONKY and has a slight angle to at least one side, making them harder to stack! Another fun element to play is the bonus playing cards. Some cards reverse play, or remove an opponent's block! Whoever can stack the blocks the highest or runs out of cards first wins the game. There is an element of difficulty in this game that I wasn't expecting, but even the youngest of the kids was enjoying it immensely. Are you kidding? My kids can deliberately set traps for their siblings? They love it! It does seem to take a really long time to end the game, however. When people are repeatedly knocking the tower down or removing opponents' blocks, there doesn't seem to be an end in sight. We had to flip our discard pile over three times before our game ended the first time! :)
USAopoly has provided my family hours of entertainment already. I can't wait to enjoy more of their fun, engaging and family friendly games in the future!
To follow USAopoly on social media click here:
If you'd like to see what my review friends thought of these products, click here: