ALEKS
, which stands for Assessment and LEarning in Knowledge Spaces, is a comprehensive, online math program that will assess and teach your child in every aspect of their mathematical education at the level they should be. It is a great way of finding out where your child is in their mathematical skills, comparing them with your state's standards. While I typically don't concern myself with these types of comparisons, it was a nice way to determine how my students stacked up with other students their age.
When beginning this program, each student is given a mathematical assessment test. WARNING: THIS TEST IS LONG, INTENSIVE, AND BORING! (basically Connor's words ;D) However, the information provided by this assessment is essential in placing your child where they should be for the remainder of time you are using this program. The assessment consists of about 60 questions pertaining to all math subjects your state requires public school students to know upon completion of their grade. So it's important to remember that if you are just beginning the school year, or are only half-way through, you should not expect your student to have mastery of all subjects.
My favorite part of the assessment is the fact that ALEKS lets your student work on what they already know, and pass on topics they are not familiar with. If they come to a question they have never seen, they click the button, "I haven't learned this yet." I loved that - there was no blind guessing! Once the assessment is finished, the student receives their pie.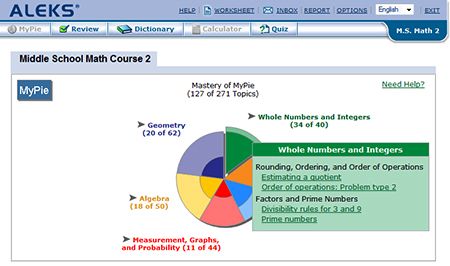 This chart is broken into a number of pieces representing the different math subjects. Inside each pie, you will see a shaded area that represents the percentage of mastery your student has. For example, in the above graphic there are 62 areas of geometry to be covered at this grade level. The student has mastered 20 of the 62 geometry topics. The pie lets the student see, on a regular basis, what progress he has made. Connor absolutely loves seeing his pie get filled in - it is very satisfying to him.
The great thing about this learning method is twofold.
1) The student gets to choose which topic they work on each day. I required Connor to work on 3 different topics - they could be review or new information - but he chose which topics he would work on. There is also a review page, showing you what they've covered in the past. I required him to review 3 topics every Friday.
2) When the student comes to a new topic, they will hit the button EXPLAIN. They will be taken to a new screen that will teach them how to solve the problem (ie: finding mode and range). They will learn the definition of each process, and they will be taken through a sample problem step-by-step.
"I really like ALEKS," Connor told me. "It's annoying when I don't know how to do a new problem, but I like that it teaches me how to do each new problem. Then I get to see how much I have learned with my pie. And I like working on the computer instead of in a book. It's pretty cool."
As for the parent/teacher, there is so much to this site. You have a master account homepage that lets you check on each student's progress whenever you like. You can set up how often you want them reevaluated, check on how often they are logging in, how much time they spend on each lesson, and a great breakdown of their assessment tests.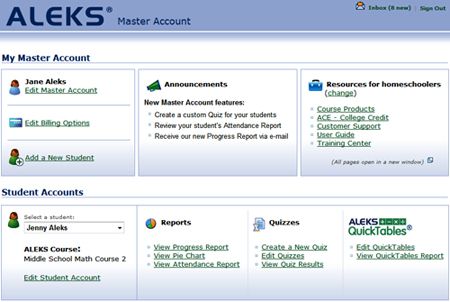 I was very impressed with ALEKS. I liked seeing Connor learn a new topic every day and see him progress through many different concepts in such a short time. There were some great things about this program, but there were also a few things I didn't care for.
First, some of the tools were a little touchy. You have to use an electronic ruler, protractor, and such. Sometimes I would be certain Connor had done a problem correctly, and the computer would say he hadn't. I know it was because he didn't click the button correctly or something minor.
Another thing that concerned me was what ALEKS considered a level of mastery. There were some topics that were considered mastered after getting 3 questions in a row correct. Now in some cases, I would agree that he grasped the concept that quickly and was ready to move on. But sometimes, I believed he definitely needed more practice in a certain area. That is why I required a review day every week.
Subscriptions are available for $19.95 a month, $99.95 for 6 months of access, or $179.95 for 12 months. For families with more than one child, discount pricing is available. However, as much as I liked the program, I'm afraid that it is well over our price range for one school subject. Try it for yourself, though, and see what you think. They are offering my readers a FREE 2 month trial. You and your family may consider it a great value! Click on the button below.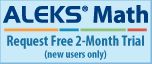 *Don't just take my word for it! Check out some of my fellow TOS Crew Members' reviews
HERE
.
**Disclaimer: I received this product via TOS Homeschool Crew in exchange for an honest review. I was not required to write a positive review; all opinions stated are mine or my children's.