Have you ever had the desire so strong to try something, but something always came up and prevented it? Whether it's a new restaurant or a shoe store, a park or a workout class, we've all been there. And homeschool curriculum is no exception. I've seen reviews, looked at sample lessons and received emails from
Time 4 Learning
since Connor was a kindergartner. I have always thought it looked like fun, but I always found a reason not to give it a try. Until this year. When T4L came up on the Vendor Interest Form, I was on it like white on rice, let me tell ya!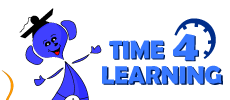 To give you a heads up on T4L, it is a secular online curriculum with the motto, "Homeschool curriculum, after school, summer use". They have programs developed for PreK to 8th grade, covering the subjects language arts, math, science and social studies. The cost is $19.99 per month for one child, $14.99 for each additional child. They have
parent forums
,
lesson plans
, a
getting started guide
, and much more. In fact, there is so much to look at and explore, three weeks is not nearly enough time for me to have gotten a handle on it all!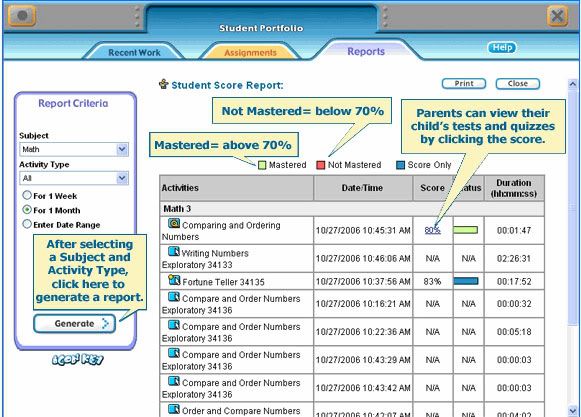 This is an example of the tools available to you as a parent. They compile progress reports for each child, so you have all records ready and available to print. What a time saver!
As for the kids, they have enjoyed T4L. It has been a nice break from a few days of subjects, but I can't see it being a full curriculum. While it covers the four core subjects, I didn't feel there was a strong enough emphasis on spelling in Canon's grade (2nd) or grammar in Chloe's grade (3rd).
Canon has spent the most time on the site, and he really liked the spider story in Language Arts second grade. Unfortunately, I think he went back to it three times and didn't do new lessons! That's one thing I would change - once you've done a lesson, it should be checked off and the next lesson should be highlighted. You have the ability as the parent to set up lesson plans, but the student is still able to skip around and choose the lessons they want to do that day. I think that would create gaps or holes of some kind if it's building on foundations. I just think his time would have been better spent if he had known to go to the next lesson.
Canon loved the math program, as well. There is a story behind each lesson, and he got to watch the story unfold as he progressed through the problems. There are fun characters in all the lessons, like a student with a robot best friend, and the dog, Ruff Draft! Canon enjoyed these lessons, and he thought the money lessons were the best!
Here is an example from the second grade math site. That grade learns about money, graphing, multiple digit addition and subtraction, and fractions.
I had Chloe do some science lessons. Now this was my favorite program! She did one lesson in particular that I really enjoyed watching with her. One thing about online curriculum that I've always been concerned about is that they'd be in front of the computer and not doing any hands on lessons. With T4L, they are built right in! About half way through the lesson, it told Chloe to go get a pencil, paper, and a coin. She then had to draw both sides from memory. She learned about hypotheses, collecting data, qualitative and quantitative analysis, and much more - all in about a 20 minute lesson. I was very impressed. I could see us using the science program a lot. (One reminder: this is a secular curriculum. While we didn't come across any issues or conflicts concerning our personal beliefs, they will not be teaching from a creationist or biblical point of view).
However for us, the price is just not in our budget. With four kiddos, we have to keep costs low in all areas to homeschool. We combine many subjects so the kids are learning together, and I want to be involved more directly at this age. Personally, I'm not willing to let them be on their own for 3-4 hours a day with a computer as their teacher, at least not yet. So if we were to use it, it would be as a supplemental source - not a full curriculum. And as a supplement, I find it too expensive. I think this would be a great alternative for families that have only one child. I also understand that some families don't have the budget constraints that we have, so it could be seen as a value to them. I think the lessons are great, and the parent tools are very helpful. If you fit either of those categories, or are just interested in seeing if it would be a fit for your child, I encourage you to check out T4L. I am so glad I did!
** To check out more Time 4 Learning reviews, from my fellow TOS bloggers,
click here
.
**Disclaimer: I received a 30-day free trial from Time 4 Learning via TOS Homeschool Crew in exchange for an honest review. I was not required to write a positive review; all opinions stated are my own and my children's.