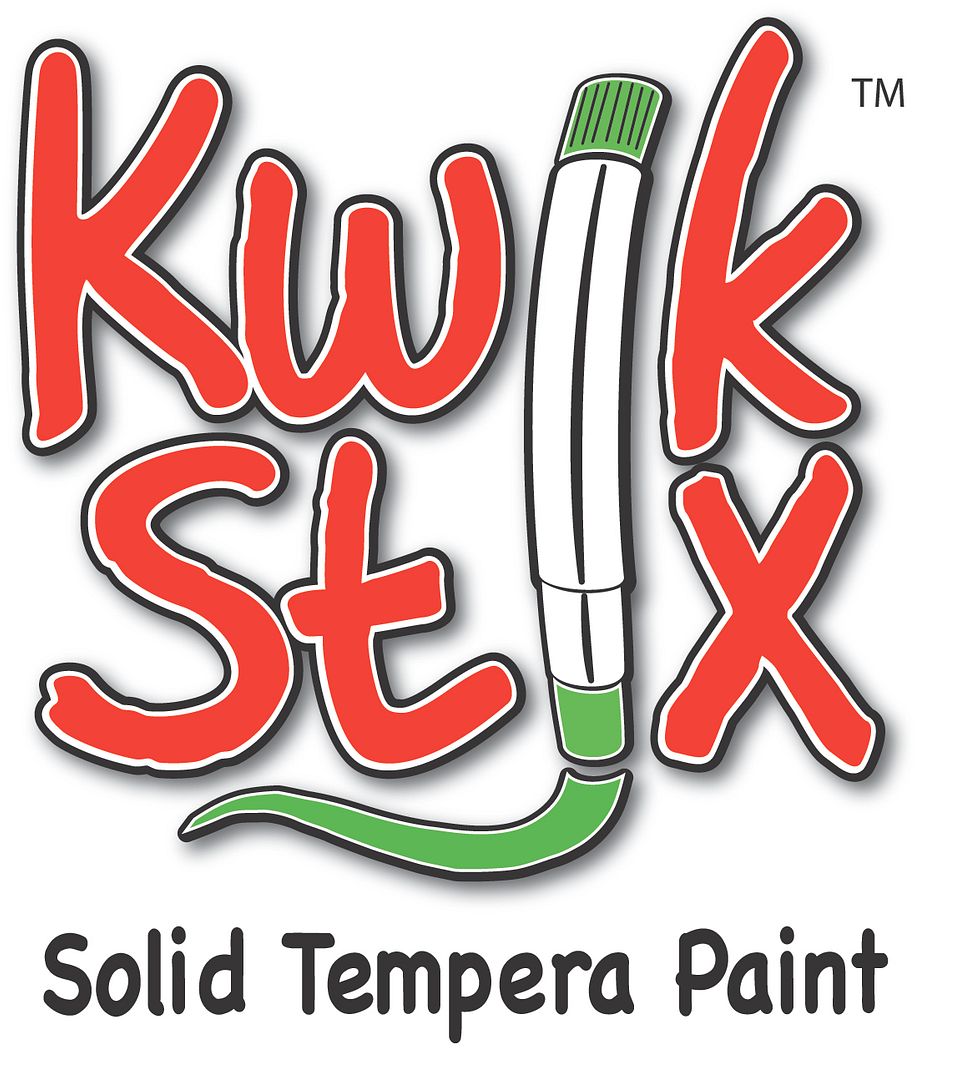 Are you one of those moms who love arts and crafts? Glitter, glue sticks, and play dough makes your creative juices flow? Well, if you are...we probably can't be friends! I don't love craft time - in fact, I avoid it whenever possible! I know this is an area I am sorely lacking in for my kids, but I feel like they get great exposure to these things at church, Co op, and my mother in law's house! I am not the greatest housekeeper, and I hate the idea of extra messes! So when the Review Crew wanted me to test out a new painting system from
The Pencil Grip, Inc.
, I was very hesitant. But I knew the kids would love it...so I decided to give it a go. The company sent me a 12-pack of their new product,
Kwik Stix
.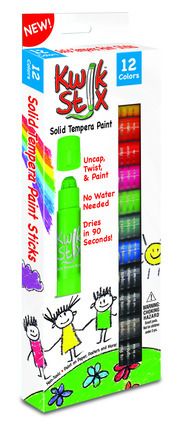 Kwik Stix are sticks of solid tempera paint. They are all the fun of painting with very little mess. When we opened the box, I was actually a little surprised. They looked just like glue sticks! I didn't know what to expect, but this was not it. Even though I knew it was "solid", I didn't have a clear understanding of what it would possibly be. When I think of tempera paint, I think of thick, gloppy, gooey blobs of brightly colored mess. This was a very pleasant surprise! The paint is literally the consistency of a glue stick. The stick even has a turn knob at the bottom, just like a glue stick, so you control how much paint is being used at a time.
Castle loves to finger paint! But as I've already stated, I can't stand it. When I pulled the Kwik Stix out of the box and asked him if he wanted to paint, he gave me a look like I was crazy.
"You mean color?"
"Nope! This is paint!"
Another look from my 3 year old that he really shouldn't be able to give yet.
But when we sat down and I showed him what they did, he got so excited. I drew a few things, and he joined right in. His little hands had no trouble handling the sticks, and he had great control over what he was creating.
Before I knew it, Caleb had wandered over to see what we were doing. He grabbed a piece of paper and joined us. A few minutes later, I looked up, and Chloe was painting, too! Needless to say, kids of all ages love this product. (Even my 17 year old niece saw them this weekend and was super excited to use them!!)
The kids had a great time using the Kwik Stix. We've had them out a few times now, and they've made some great paintings. I've been very happy with the fact that they are little to no mess as well as how fast they dry. It says on the package 90 seconds, but it has actually been barely 30 seconds and they are dry.
So if you are a mom who finds herself saying no to the kids when they ask to do an art project, you may find yourself saying yes to Kwik Stix!
You can purchase Kwik Stix through The Pencil Grip, Inc.'s website, or you can find them on
Amazon
.
To keep up with the company and new products, follow them on these social media sites:
The company also sent us a sample of their original product, their classic pencil grip. It makes hours of copywork much less tiresome for little ones. Plus, it encourages them to hold their pencil correctly. I am looking forward to trying out their many other grips in the future.
To see what other crew members' families thought of the product, follow the link here: