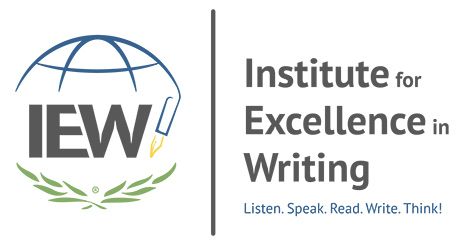 As a lover of poetry myself, I have always wanted to share that love with my kids. Unfortunately, my boys started from a young age to see poetry as a topic they must suffer through, least of all enjoy. I was hoping to change that for my oldest this year when I was chosen to review Institute for
Excellence in Writing
's curriculum,
Linguistic Development through Poetry Memorization.
Andrew Pudewa, founder and writer of IEW, believes that poetry and memorization is becoming a lost art form in today's American Public Education system. I wholeheartedly agree. When we become so focused on math and science and technology, but neglect the fine arts, we suffer as a society. The arts do not stand alone. By studying pieces of literature and poetry, we learn about history, perfect our understanding of the sophistication of our language, and become more well rounded human beings. Art is the beauty in life, and poetry is a beautiful category of art. So while my boys don't revel in poetry memorization, they will endure because I know how much it will help them grow in all their other subjects, as well as in the world.
IEW's
Poetry Memorization
curriculum came with 5 cd's of Andrew reading all 96 pieces of poetry and speeches, a leather bound case to keep them in, a Teacher's Manual (which includes instructions, certificates and poet biographies), and a downloadable ebook of the Student book. You can purchase the hard copy of the spiral bound
Student book
separately. You are also sent a dvd of Andrew's conference talk, "Nurturing Competent Communicators". And lastly, you are given 7 mp3 downloads of some of Andrew's other workshops. If you have never gotten to be in one of his workshops, these recordings will truly be a treat!
Since we were ending the school year, I thought we would just go through the book and let Connor choose a few poems to memorize. Once he chose one, I gave him a time frame as to when I wanted him to present it to me. At first, he chose really easy ones, thinking he was sneaking one over on me. Then he chose some longer ones. He was very worried that he wouldn't be able to memorize the long ones, but he surprised us both by memorizing over half of a 16 stanza poem in one afternoon!
One thing I found to be true that Andrew Pudewa addresses in his dvd is that poetry is only as exciting as the subject matter. So if you have rough and rowdy boys like I do, you probably won't be teaching them poems about the beauty of a rainbow, of the fluffiness of a sheep. You have to find poems that spark their imagination, and this curriculum does that! In fact, some of them were so shocking that Connor called them morbid - but he said it with glee! We have kept the cd's in the van and pop them in to listen to a few poems nearly every time we are going somewhere. All the kids are picking up on some pieces, and each on definitely has their own favorites!
Here is a list of a few of the poems Connor worked through these last few weeks:
How Doth the Little Crocodile by Lewis Carroll
Fog by Carl Sandburg
The Charge of the Light Brigade by Alfred, Lord Tennyson
Stopping by Woods on a Snowy Evening by Robert Frost
Ballad of the Tempest by James T. Fields
He has four more that he is working on through the end of the month. I am so glad we got the chance to review this product. I will be using it again next year with the younger boys, and I can't wait to hear their deliveries! IEW puts out excellent curriculum, and this one is no different. When I see IEW products, I expect quality, and I definitely received it with this program.
To follow IEW on social media, go to these links:
To see what others thought of the program, follow this link for other TOS Reviews: