Science Shepherd
is an online science curriculum for grades K-12. It is taught from a biblical, Young Earth Creationist perspective and is directed by a homeschooling father of 6, Scott Hardin, who is also a medical doctor. During his family's homeschool journey, Dr. Hardin found that it was difficult to find quality, bible-based science curriculum, so he knew others must struggle with the same problem. So Science Shepherd was born. They offer four courses: Life Science, Intoductory Science, Biology and Creation Science. We reviewed the
Introductory Science
course. Introductory Science gives you two options for workbooks: Level A for 6-8 year olds and Level B for 9-11 year olds. We reviewed Level A.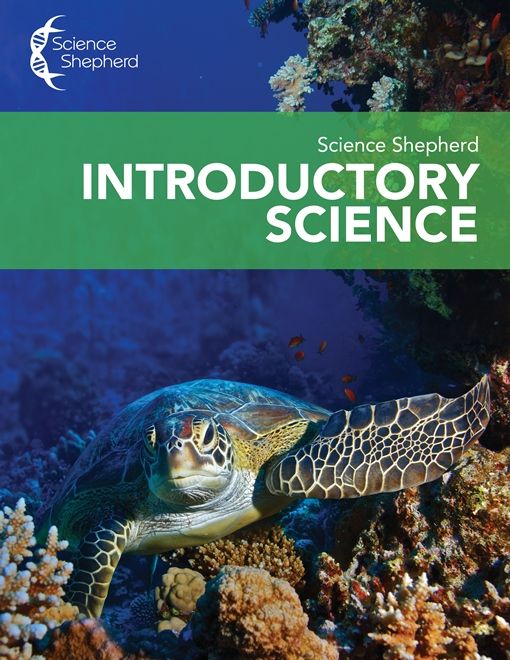 Introductory Science is a complete, 35 week curriculum for 6-11 year olds. It contains daily 3-5 minute video lessons and has a corresponding workbook with follow up questions and activities. Every few lessons, there will be a science experiment video you can view and choose to reenact at home.
When we received Science Shepherd, Caleb was very excited to get started. We went to the site and logged in. The videos begin with Dr. Hardin sitting at what looks like a news desk. There are screens behind him that will work as power point presentations, short videos, key words, and so on.
Meteorology lesson
Quick facts about Oceanography
The girls are conducting an experiment on apple seeds.
We had quite a bit of trouble with the videos buffering often, but were glad they were only short videos! The first two weeks of lessons are of the creation story, so we went through those pretty quickly- two or three lessons a day. The corresponding workbook pages were extremely simplistic. Each worksheet had about 3 to 5 questions covering the day's video. There were also activities like word search puzzles, instructions to the video activity, word and picture match sheets, and many others.
Just an example of one of the worksheets
The 35 week lessons cover a wide range of science topics:
Creation
Meteorology
Geology
Oceanography
Plants
Astronomy
Underwater, Flying and Land Creatures
Human Beings
Health
Ecology
Physical Science - Matter, Energy, Motion and Magnets
Because this is an introductory course geared for younger elementary grades, none of the material goes very in-depth. I look at it as a jumping off point, engaging the student on many topics to whet their appetites, but not a full course meal on any subject.
Caleb working on his worksheets
While going through the lessons, we skipped around because he had already covered a lot of this material. Caleb loves science, and this is a very basic course. He was definitely at the top of the curve coming into this curriculum with only a few weeks of 2nd grade left. I think the lessons are definitely at the level of Kindergarten to 1st grade with what it is covering. However, I am not sure if the video lessons would hold the attention of a very young student. While Dr. Hardin is very informative, I don't believe he is engaging to his audience's age level.
I think Science Shepherd's courses definitely fills a gap in the homeschooling world. A biblical worldview in the science world is an essential need today. The introductory material Dr. Hardin has compiled will be a great beginning to a solid science education that will both give the student a solid foundation and honor the Lord.
To follow Science Shepherd on social media, go to the following links:
To see what other reviewers thought of Science Shepherd, and to see other curriculum reviews, click here: