Has your young child ever expressed an interest in music? Have you ever heard that learning musical instruments at a young age will help your child in all areas of academics? Have you ever wanted your child to learn an instrument, but felt totally incapable? If you answered yes to any of these questions (or in my case, ALL), then you must check out
Kinderbach
!

When homeschooling, you are faced with numerous activities and opportunities for your children. Unfortunately, there is not always enough time, energy or money to make them all work. It often seems that Caleb (my 3 year old) and Canon (my 7 year old) are spectators in the extra curriculars we participate in, or encouraged to try something that the older two are already in. It doesn't always happen that they get to choose something just right for them. That's why I was so excited to be able to review Kinderbach.
Piano Lessons with KinderBach use playful characters to teach note reading, rhythm, singing, and composition. It is geared for children ages 3-7 and gives a solid foundation for all these areas. There are over 240 video lessons, all arranged in a sequential order, that build on one another to keep the child engaged and retention levels high. The ease of the lessons just thrilled me. All I had to do was bring up the site, click on the lesson Caleb was ready for, and let the video play. Or, if it's more to your liking, you can buy all the lessons on DVD. Either way, you couldn't ask for a better deal for someone like me who doesn't have any training in piano.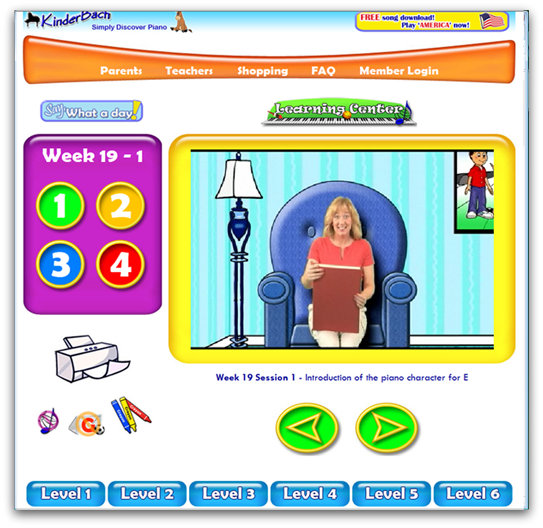 Caleb absolutely loves Kinderbach! He would beg for his Kinderbach lessons, and he would often want to do several each day. It was his time to play school, and to have a chance to do something right on his level with just the two of us. Canon enjoyed it a lot, too. He enjoyed the characters, especially Dodi and Frisco!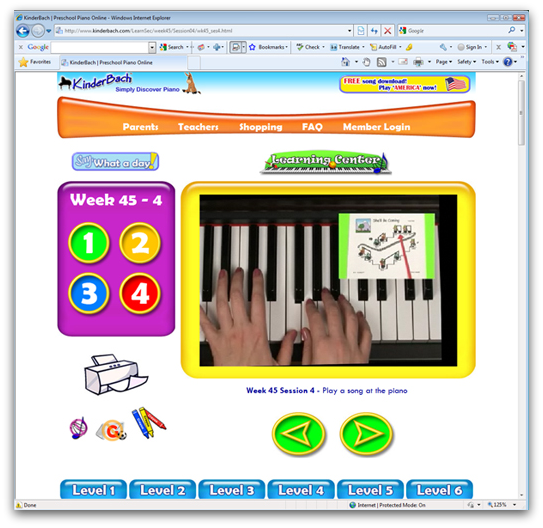 The cost is great, too - especially when I have two in this age group that can share the program. Here is the breakdown of prices from the website:
* Access to all web lessons (over 240 sessions!) by computer, iPad, Android Tablet, Kindle Fire or Nook.
* Accompanying downloaded PDF activity pages
$7.99 a month - Billed in a one time annual payment of $95.88
(Great Value! Save 60%)
or
$19.99 monthly subscription - Billed monthly for a year
(12 separate payments)
*And there are tons of specials going on right now. For instance, check out this 40% off deal
here
. Plus, they have a 30-day, money back guarantee, so you have nothing to lose.
And don't think that you have to put a lot of money into a piano if you don't have one. These lessons work just fine with a child sized keyboard. Remember, these lessons are geared for 3-7 year olds, so the smaller keyboard is a great option. Caleb would bring his keyboard to the computer and follow along while the lesson played on the computer.
Overall, I think Kinderbach is a great program. The boys and I have enjoyed the time spent together, and I know they will move into the next phase of learning an instrument with confidence and ease, thanks to Kinderbach!
*Don't just take my word for it! Check out some of my fellow TOS Crew Members' reviews
HERE
.
**Disclaimer: I received this product via TOS Homeschool Crew in exchange for an honest review. I was not required to write a positive review; all opinions stated are mine or my children's.