See-N-Read's newest product,
See-N-Spell
($9.99), is a 40-page reference guide recommended for anyone Grade 4 or above who needs a little assistance in the spelling department. It is a helpful tool to a student writing reports, practicing creative writing or any other independent writing assignment.

See-N-Spell is arranged alphabetically, then each letter page is broken down into parts of speech. There are three sections to the guide: 1) Most Commonly Used Words,2) Most Commonly Misspelled Words and 3) My Special Interest Words. The manual is easy to use and holds over 300 of the most commonly used English words.
My oldest is not a confident speller; because of this, he often is hesitant to do independent writing assignments. Needless to say, he wasn't happy when I assigned a few extra this week! :) However, I handed him the See-N-Spell manual, and he was interested. He asked me once or twice what letter a word started with, but that was all he wanted me to tell him. :) He seemed much more confident when turning in his papers this week, and I am sure it was because he wasn't having to ask me for so much help. It proved to him that he could do the work, and it really didn't have to be so intimidating. That made this momma pretty pleased!
See-N-Read also sent us their handy dandy reading tool ($2.99). The See-N-Read is a reading device that is designed to help readers see, focus and remember what they read. It helps readers reduce word- and line-skipping, and it improves reading fluency and comprehension. Now this, Connor is absolutely loving!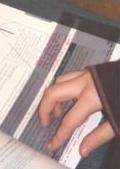 He told me just this morning how much quicker he feels like he is reading. He just started a new book on Monday, and he has already read 80 pages. He said he didn't lose his place as often, and it helps him focus on the words much better. Wow - I can't think of a better selling point than that! Check out their other great products
here
.
*Don't just take my word for it! Check out some of my fellow TOS Crew Members' reviews
HERE
.
**Disclaimer: I received this product via TOS Homeschool Crew in exchange for an honest review. I was not required to write a positive review; all opinions stated are mine or my children's.