Do your sons love medieval-themed projects? Do they enjoy working with their hands? Do they love anything that could possibly be used as a means to cause destruction? If you said yes to any of these things (I answered yes to all 3!), then you have to check out
Pitsco
! Pitsco Education is a hands-on learning project company. According to their website, the company is geared toward science, technology, engineering, and math (STEM) classroom solutions, helping students achieve success through student engaged, hands-on learning. They have Robotics Packs, Alternative Energy Packs, Engineering Packs, and lots more cool stuff that I know my boys will go gaga over! We were sent the
Trebuchet and Catapult Kit
($21.95) to review.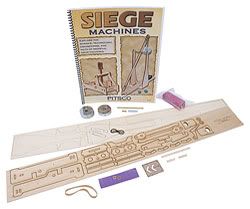 We received the Trebuchet, Catapult, Teacher's Guide, assembly instructions and modeling clay. While assembling the project and completing the activities in the book, the boys learned many things, such as:
•Newton's laws of motion, and potential and kinetic energy.
•Relate speed and mass, force and range, and mass and range.
Kelly tood responsiblity, given that I usually blow it big time in the science experiment arena. The boys LOVED having Daddy work through all of the assignments with them, and I think Daddy enjoyed himself as well! Here's what they all had to say:
Kelly used an epoxy to put the machines together. This did NOT come with the pack. He said if we were to do it again, he would use super glue or a hot glue gun. Be prepared - Elmer's will NOT suffice in this project!!
The catapult was more labor intensive. IE: Kelly did the work while Connor and Canon watched. ;) But the trebuchet was much more entertaining. They could launch the clay balls halfway across my house. Bonus for the boys! The kids were able to change the weights on the trebuchet, thus learning about force, speed, mass and range probabilities.
We received this pack the week before Science Channel's annual Pumpkin Chunkin, so the family was really pumped to get to build these miniature models and learn how they worked. The timing could not have been better for us! I'm seeing larger scale projects in our future... ;D
Pitsco Education provided a great learning experience for our kids. The teacher's guide was thorough, but not overwhelming. The customer service was excellent. In addition to the instructions that came with the kit, I received emails with tips and a contact email if I had any questions. The cost for this kit is $21.95 - we found that to be a bargain for two projects and coordinating lesson plans! I am certain we will be purchasing from Pitsco for future projects.
*Click
HERE
for a direct link to the homeschool portion of the website.
**Don't just take my word for it! Check out some of my fellow TOS Crew Members' reviews
here
.
***Disclaimer: I received this product via TOS Homeschool Crew in exchange for an honest review. I was not required to write a positive review; all opinions stated are mine or my children's.