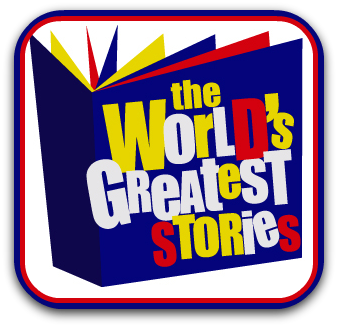 I want you to close your eyes and relax. Listen to the cd you just put in, and be transported. Two thousand, four thousand, six thousand years ago. To the time Noah, Daniel, David or Jesus walked. And feel like you are there. Not just feel like someone is telling or re-creating a bible story. But truly hearing the words, just as they are written - no excess or embellishment necessary - come to life in your imagination.
This is what will happen when you purchase
The World's Greatest Stories
cd's. For $7.95, you can take your family on an hour-long adventure without leaving your living room. You can take them with you on road trips, too! The cd's come in King James or New International Versions, and they are read entirely from the texts. George Sarris is the narrator and multi-faced actor in the stories, and he truly brings life to each character he reads.
There are currently six volumes in The World's Greatest Stories Collection: The Prophets, The Life of Christ, Beginnings, Joshua and Esther, Joseph and His Brothers, and Defeating Giants. We were sent Volume 1: The Prophets for review, which included the stories of The Blazing Furnace, The Handwriting on the Wall, Daniel in the Lions' Den, Elijah and the Prophets of Baal, and The Prophecy of Jonah.
The family definitely had mixed feelings about the voices of some of the characters. The toddler got a little scared a few times and asked me to turn it off. My daughter - who is a major drama queen in her own right - was amazed and enthralled, especially when I pointed out that he was reading directly from the bible! The boys were engaged, but found some of the voices and emotions to be over the top (tough crowd!). My husband even found the readings to be intriguing. He said the way George Sarris phrased some things brought new context that he'd never really seen before in his own studies. Always a good thing to take something new from scripture, no matter how often we have read the stories! I personally loved it, and I can't wait to purchase more.
If you are looking for a way to bring some excitement to your family bible time, or just need another way to engage your children with scripture, then you definitely need to buy The World's Greatest Stories.
*Don't just take my word for it! Check out some of my fellow TOS Crew Members' reviews
here
.
**Disclaimer: I received this product via TOS Homeschool Crew in exchange for an honest review. I was not required to write a positive review; all opinions stated are mine or my children's.