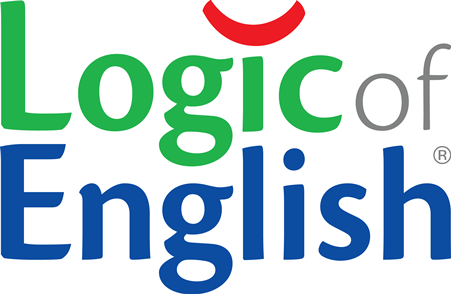 In our house, English and Language Arts is that subject that is the dreaded one. In ten years of
homeschooling, we have tried so many different curricula and techniques that I've literally lost count.
It seems like we struggle every year to decide on and to implement a successful program for each
of
the boys. That's why I was so interested in reviewing
Logic of English
. We reviewed
Essentials
2nd
Edition
.
Logic of English is a comprehensive Language Arts curriculum that strives to teach the REASONS
for the many curious spellings in the English language and gives educators the tools to teach these
concepts successfully. While the primary goal of the program is to strengthen spelling and reading,
it
does an excellent job of teaching grammar as well. And of course, the more competent and
confident one is in spelling and grammar, the better writer they will become.
The Essentials program is a multi-level reading, spelling, grammar and vocabulary curriculum. You
are able to teach at three different levels with the same curriculum. Levels and lesson sections are
labeled A, B, and C so you know how to break the lessons down. The teacher directions are clearly
written in a script form, so all I have to do is look at my daily supply list, gather those materials and
start teaching. I used the program for my 2nd (Level A), 6th (Level B) and 9th grader (Level C).
The Essentials kit comes with so much stuff! I was truly blown away by everything they sent and, I
admit, a bit overwhelmed. But after a few days of going over the material and all of the supplies, I
found it to be very manageable. The 1st semester set comes with all of the following:
Essentials Teacher's Guide, Volume 1

Essentials Student Workbook, Volume 1

Spelling Journal

Morpheme Cards, Set 1

Basic Phonogram Flash Cards

Spelling Rule Flash Cards

Grammar Flash Cards

Advanced Phonogram Flash Cards

Phonogram Game cards: Bookface

Phonogram Game cards: Manuscript or Cursive

Phonogram Game Tiles

Spelling Analysis Card

Phonogram and Spelling Rule Quick Reference
It is difficult to say how each day will look because, frankly, each day is organized a little bit differently. There are so many things that Logic of English strives to teach, and not every component is covered each day. Some of the topics covered are the obvious ones, like Spelling Lists, Grammar, Vocabulary and Review. Other topics taught are Phonograms, Exploring Sounds, Spelling Rules, Dictation and Composition. The workbook gives extra practice for these topics, and some games are thrown in often to make the learning process even more engaging. The spelling journal is organized into phonogram lists, and the students are to keep their lists in their journals.
There were so many things I liked about this program. I believe the boys are getting a firmer grasp on their spelling. I can see them thinking about them and have heard them saying the spelling rules to themselves as the spell something out. I am seeing improvement, and we are only 5 weeks into it. Connor has done a great job learning the vocabulary (a Level C section), which is broken down into roots, prefixes and suffixes. It has been very good for him to have this extra practice.
While there are so many components to Logic of English, I don't find it overwhelming. The teaching approach is very low key and engaging, and it is nice to be teaching all the boys at once. The only drawback I've found is the lack of independent learning. To be more clear, I can't have one work on his Level work and be working with another one on their level at the same time. The way the book is laid out, I am needed at all levels. So when Connor is working on his spelling test, the other two are waiting for their turn...and for anyone who has boys, you know that this can lead to chaos quickly! I have had to be diligent about keeping them in line while waiting for their Level lesson to come up.
Caleb and I also got to review the Essentials Readers. The pdf they sent me was a little hard to
follow,
but we muddled through. We got to learn about some interesting sports we'd never heard of,
and Caleb got to learn how to recite some simple poems. This wasn't exactly his favorite thing to do,
but he ended up doing very well.
Overall, I was very satisfied with Logic of English. I hope to see even greater improvement in the
boys' abilities before the school year ends by using this program.
To keep up with Logic of English on social media, go to any of the following links:
Logic of English gave the Crew a few other items to review. Go check my fellow reviewers and their products out here: