A few years ago, I received a cd with the first three episodes of a new audio adventure series with the purchase of my curriculum. The series followed a homeschool family with a passion for spreading the Word and a desire to serve the Lord in their home and all over the world. Their missionary stories inspired us, the exploits of the younger ones tickled us, the concerns of the parents touched us, and the entire family drew us into their lives. The family and the episodes were
The Brinkman Adventures
.

We loved the first three episodes so much, I went ahead and bought the rest of the first season. We'd listened to the stories many, many times - so many, in fact, that our first cds are so scratched that they don't play well anymore! :) So when we had the opportunity to review
Season 3
, I knew the kids would be thrilled!
The Brinkmans are an all American family. The parents are deeply committed to the Lord and to each other. The kids are intelligent, insightful, and full of mischief! They have adventures wherever they go, whether it be Alaska or their own back yard. Now you may think that audio adventures are for long road trips, but you woud be mistaken! We popped the first cd into the player of the van and listened every chance we got! It takes us 15 minutes to get to church and at least that long for everywhere we go, so we would listen to a little at a time. It's funny how I'd have to pry my kids out of the van, or they would beg for me not to turn the ignition off just yet! ALL of the kids are captivated by the Brinkmans! Season three contains 12 episodes, giving you over 5 hours of entertainment. The list of episodes are:
God's Mule
Mountain Mover
The Silent Ambassador
Translating Trouble
Man-up
Acorns and Oaks
A Saint's Story Pt. 1
A Saint's Story Pt. 2
Untouched
Busy Bees and a Bullhorn
Missionary Tourist Pt. 1
Missionary Tourist Pt. 2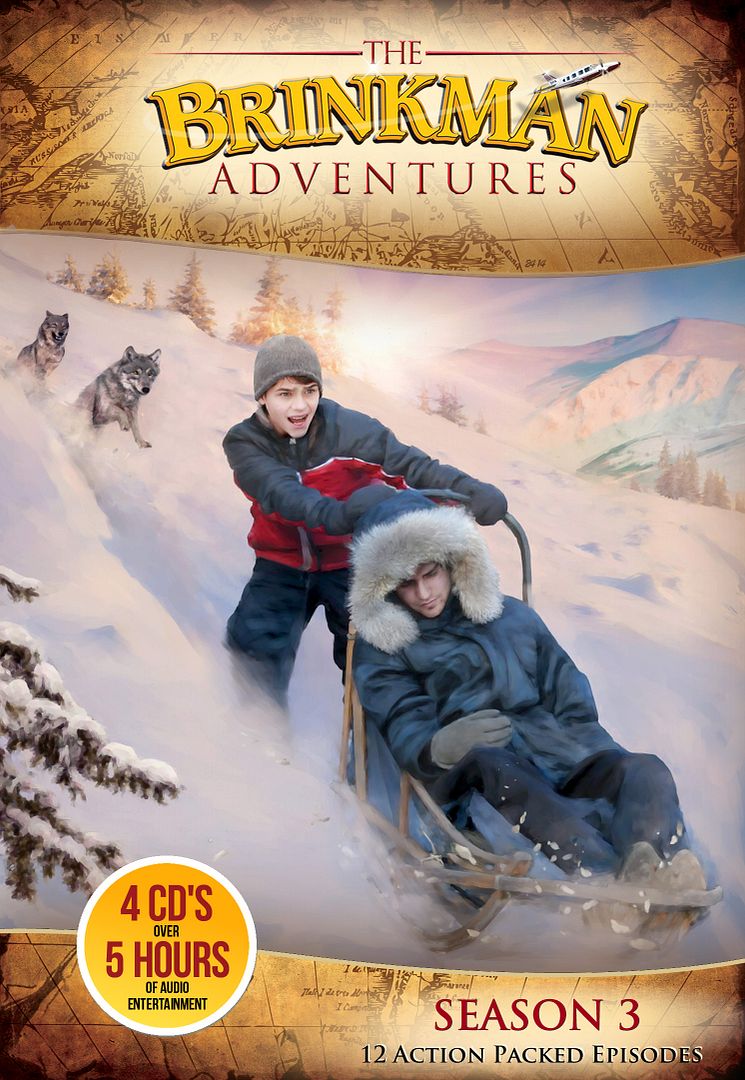 Now we were surprised with the format of the adventures this time around. The first story went straight into a missionary story, with no Brinkman involvement. We were a little confused at first. We were looking forward to hearing about the family and what they were up to. However, we were drawn in very quickly. Tomas' story, the first missionary we met, was very impactful. Once we got into it, we loved it. I was very intrigued with how they wove each story into the Brinkmans' lives. Every missionary we heard from somehow had interactions with the family further down the line. It was very cool.
The younger boys loved Man-up. Ian's coming of age story and his adventure on an iceberg with Mr. Brinkman was nail-biting at times! They wouldn't want to get out of the van that whole day! Connor's favorite story this time was Missionary Tourist. Hearing about Isis and relating it to what we see and hear in the news every day really touched him. Chloe enjoyed Translating Trouble the most. She was pulled to the character of Mikey and was so happy to see him reappear later in the episodes. I couldn't tell you which I enjoyed most, but I will tell you this: to see my children so engrossed in stories about people dedicating their lives to Jesus truly blessed my heart. No matter what path my children take - whether it be to the mission field, the business world, or their own little community - I pray that they be bold for Christ. Having them hear these stories that captivate their imagination while touching their hearts and souls will have Kingdom impact. Bringing these missionaries' stories to life not only blesses them, but it inspires the next generation of missionaries. I am thankful for the direction the Brinkman Adventures took this time around.
...but I'm really excited to see what happened to Aunt Sarah - what a cliffhanger!!
You can follow the Brinkmans on the following social media: