As homeschool parents, we have the responsibility and privilege of teaching our children from the day they are born, almost exclusively. They have Sunday School teachers, co-op teachers, and others in their lives through sports and activities, but the majority of their education comes from us. Sure, we study reading, writing and arithmetic. We teach them about our nation's history, and first and foremost, about our Lord and Savior. We make sure culinary skills and budgeting are touched on as often as possible. But there have been times when a child will come across a situation in real life and be completely unprepared. It is a natural skill that can be honed, or a skill they have to learn from the ground up. Many public schoolers I know don't even have a grasp of it. What am I talking about? Critical thinking.
The Critical Thinking Co.
sent me their book,
The Basics of Critical Thinking
, for my 9th grader to review.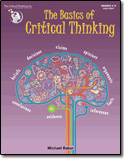 The Basics of Critical Thinking ($22.99) was designed to teach middle school aged kids (4th-9th graders) the skills and concepts of critical thinking. The book defines critical thinking as "finding and evaluating evidence to try to make the best decisions". They emphasize looking at a situation or problem critically, objectively, and without emotion; they desire to teach using logic to come to the best conclusion. The book covers object lessons, activities, diagrams, and touches on argument forms and fallacies. One thing I liked very much is that you can move through the book in any order. The lessons covered in the book are:
What is Critical Thinking?

Decisions and Conclusions

Beliefs and Claims

Finding Evidence

Evaluating Evidence

Inferring and Inferences

Facts and Opinions

Facts and Probable Truths

False and Probably False

Facts, Probably True, and Probably False

Venn Diagrams

Logical Connectives

Advertising

Agreements and Contracts

Common Errors in Reasoning

Arguments

Valid and Invalid Arguments

Fallacies

Analogy Arguments

Using Critical Thinking to Make Better Decisions
Connor is a natural problem solver. He can look at a pile of LEGOs and envision what he's going to build. He can see puzzle pictures and quickly figure out what's wrong or what's missing. He is fairly intuitive when it comes to reading new acquaintances. He is mechanically minded, and very logical in his thinking. So why was I excited to see him use this book? Because I wanted him to see the importance of sharpening these skills and how it is such a benefit in the real world.
Quite often, Connor would tell me the answer before going through the basic techniques that the book was trying to teach. Most often he would be correct, and he would get a little cocky. However, when he would miss one, he could definitely see the benefit of how to work through the problems step by step. The sections about probable truths and facts and learning the difference was a great section for him to go through, specifically for this purpose. In my experience, I have found most teenage boys to be pretty set in their ways, certain their view is the correct one. It was good for Connor to see assumptions did not ALWAYS equal fact. He did made the observation that what he would assume would often be backed up with the critical thinking skills. I'm not sure everyone would have that conclusion, but it seemed to be true for him a lot of the time!
Connor had some fun with the fact and opinion section. In these assignments, you are given a picture, and you are to write a sentence that is fact and then a sentence that is fiction. One picture was of a man on the ground next to a motorcycle. His fact sentence stated, "The guy fell into the mud." His opinion sentence stated, "The guy is an idiot." Not very polite, but it was truly his opinion! ;) Another picture was of a mountain lion crouching. His fact sentence: "The cat is growling." His opinion: "He's about to be a dead cat." He is a hunter at heart, to be sure!
I am very glad we got the chance to review The Basics of Critical Thinking. Connor is really enjoying working through this book. I plan to buy the book for Chloe and Canon to work through and the second level book for Connor for next year.
To follow The Critical Thinking Co. on social media, go to the following links:
The Critical Thinking Co. sent several other products to members of the Crew. To see their reviews, click on the link here: