There is nothing more important in our lives than teaching the Word of God to our children. To share His love, His story, His gift of salvation, is the greatest privilege I have as a mother. But sometimes, I find it hard to teach the many ages we have in our family with one single bible study and make sure they are finding it applicable. That's why I was eager to check out
Grapevine Studies
and their multi-level guides. We were sent the digital downloads for their Old Testament I bible study in
Level 1
(6-8 years),
Level 3
(10-12 years) and
Level 4
(12+ years).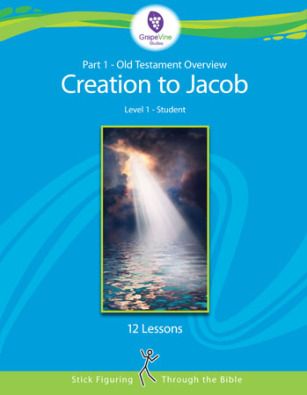 Grapevine Studies strives to give a family or Sunday school teacher the tools to teach children in an engaging, hands-on way that simplifies the planning, engages students, and grows disciples. Their method is to read the scripture, draw a stick figure picture to help you remember key points, and review together. They integrate color, character, timeline and symbols to teach the Bible to all ages. It has been a lot of fun!
So the Level 1 and Level 2 studies share a Teacher Guide, and the Level 3 and Level 4 studies share a Teacher Guide as well. We would sit down as a family with all the pages I'd printed out for each of them, my laptop so I could look at the Teacher's Guide, a wipe board easel and dry erase markers. We would take turns reading passages. I liked to have them guess what the picture should be, then I would draw it out for the younger kids to copy. All my kids were of the age to do the timeline sections, and the older ones would have word studies or more comprehensive questions. To do one lesson a day with 5 kids (Castle would watch and draw on a wipe board, too) took about 45 minutes to an hour. There was always someone losing a page of their lesson, or two would bicker over a certain color crayon. I took care of that issue by getting everyone their own box of crayons! I am not a big fan of digital downloads, simply for the reason above - we are a large family, and my kids lose things pretty easily...I have no idea where they get it from...LOL! But I think it would have been much more manageable with books - for us, at least.
I think the lessons were fun, and I enjoyed the simplistic technique to studying the bible. I don't know for sure if my kids learned a lot, since they are already very familiar with the passages we covered, but they definitely enjoyed the drawing aspect. I did appreciate the possibility for more in-depth study for the older students.
One thing I was a little disappointed in was that the older levels needed to purchase more books for more in-depth study. Grapevine requires Levels 3 and 4 to have a topical bible, a bible dictionary and a bible concordance on hand for their lessons. I thought these lessons would be a great asset, so I was glad to purchase some of these items. I didn't go through their site, but I found the titles on Amazon they suggested and bought two of them. The topical bible I received ended up being a completely different book than the one they recommended - the one they sell is a condensed version of what I bought. The bible dictionary I purchased was, in fact, the exact one they recommended. However, some of the words we were required to study weren't even in the book. They even had page numbers in the worksheets, and the word wouldn't be on that page. I appreciated the idea of the deeper study, but it didn't pan out very well for us.
Despite the hiccups we encountered, I was overall very pleased with Grapevine Studies. My kids enjoy drawing, and I think it helps solidify the concepts covered. It was a good time to connect as a family, and I hope to see more of their studies in the future - stick figures are awesome! :)
To follow Grapevine on social media, follow the links listed here:
More members of the Crew received other items from Grapevine for review. To find out more, check out the link below.