Memoria Press' New American Cursive Workbook 1 is a beginning program for first graders. It is a basic introductory workbook that takes your student through the entire alphabet, teaching them the basic strokes and connections of cursive lettering in a fun way. The book is just over 100 pages, including the easy to use teacher's guide.
Caleb is a very busy first grade boy. He doesn't like to sit long, desk work is killer on him, and he groans in agony when I have him do copywork. His print is actually pretty decent, despite all these things. However, he does flip some letters like b and d and has a hard time discerning one from another at times. Several weeks ago at church, one of the verses on the screens was written in cursive. He asked me what it said because he couldn't read it at all. I thought, what a shame that he can't read cursive. There are so many benefits to writing and reading cursive handwriting, and I feel it is becoming a lost artform. What is going to happen if we allow many generations to skip learning cursive? It seems a sad, maybe even dangerous choice, especially considering so many of our historical documents are written in cursive.
I had never thought of starting cursive handwriting in first grade. I did a year of cursive with the older kids when they were in third grade, then let them choose which they would use - they all chose print. Historically, cursive was taught first or alongside print handwriting so it wouldn't be so difficult to approach. Once they've been using print for a number of years, many students have trouble transitioning to cursive. So when I saw this review come up from Memoria Press, I was glad to give it a go. I thought Caleb would be more receptive to learning then continue using cursive if we used New American Cursive starting in first grade.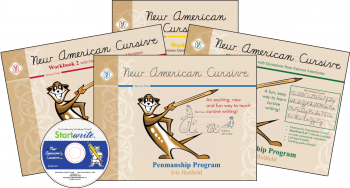 The New American Cursive program is a gentle and easy way to teach young child their cursive letters. It is very basic lettering, not too showy, and doesn't use as many strokes that a typical cursive plan uses. It starts with some great basic instruction regarding the three p's:
Posture
Pencil holding Position
Paper Placement
The student is led through the instruction by Mr. Meercat. He appears and sometimes gives helpful reminders on pencil grip or starting positions. The lessons are short and consist of three sections:
Instruction - each lesson focuses on how to form one letter.
Practice - tracing the letter of the day, and then freehanding the letter twice repeating multiple times
Play - Exercises and a free space to draw artwork or practice writing and connecting letters.
Caleb usually can get through a lesson in about 10 minutes. That's a bonus for us! :) We have only been doing this workbook for a few weeks, and Caleb can already connect letters to form short words. He began with very little interest and pretty shaky handwriting. Now he grabs his cursive workbook as one of the first things he works on for the day, and I think he has gotten much more confident in his ability to write. I am pleased with what I've seen so far, and I can't wait to see more improvement in Caleb's handwriting.
Memoria Press puts out many different types of curriculum, and our Review Crew has blogged about a few of them. To read up on what they thought about the products, click the link below:

You can follow Memoria Press on social media: