Digital Science Online
is an internet science course from
Visual Learning Systems
that uses videos, texts, images, graphics, and hands-on activities to engage students and teach them about the world around them.

Digital Science Online can be used as a full curriculum or as a supplement to what you use in your homeschool, or for public school students who want or need more activities and lessons in the sciences. There are two levels to DSI, the
Elementary Edition
(Grades K-5) and the
Secondary Edition
(Grades 6-12). The Elementary Edition is broken down into two categories, Primary (K-2) and Elementary (3-5). We reviewed the Elementary Edition, but Chloe checked out the Secondary Edition, as well.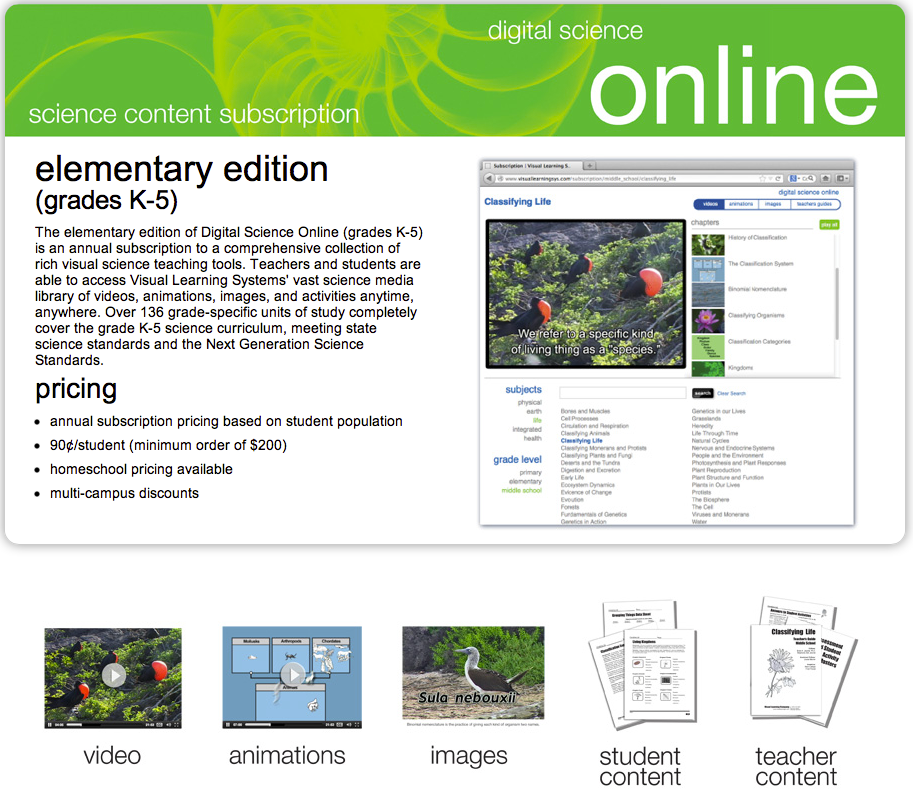 The Primary Level covers four subject areas: physical science, earth science, life science and health. There are 64 video lessons, each with videos ranging from 2 to 10 minutes, animations, images, and an in-depth teacher's guide. The Elementary Level covers three subjects: physical, earth and life. There are 63 video lessons in this grade level, and they are slightly longer in length and more in-depth. In the teacher's guide, you will find pretests, vocabulary sheets, hands-on activities, science experiments, writing prompts, diagrams and fun worksheets. For the teacher, there is a complete script of the video the child watched, answer keys, and much more.
I was very excited to be chosen to review Digital Science Online. I received a full year subscription to the website for all the kids and both editions. This came at the perfect time, just before I delivered Cadie. I knew my hands would be full with the new baby, as well as not feeling up to doing all their subjects. I figured this would be something they could do with or without me and keep up with science while I wasn't able to. Not to mention the fact that science is the one subject I'm most likely to skip over because it is my least favorite subject to teach.
One issue that many need to be aware of is that this is a secular, Common Core standardized curriculum. We are young earth creationist believers ourselves, so I understand that this will cause concern for many homeschoolers. There is a lot of great material used here, but they will lean toward an evolution-based belief system. It is being offered to public school systems, so I did expect that. In the first video we watched, within the first minute, it was stated that life "appeared on earth more than 500 million years ago."
When previewing the site, I knew this was something that Canon and Caleb would especially enjoy. They are auditory and sensory learners. If they can see it and touch and have it told to them, they will remember it! That's why I love the video component of the program. They can watch an entire lesson at once, or watch the segments that the designers have broken the lesson into. For Caleb, I like the segments because he doesn't have to sit as long in front of the screen. The lessons are informative, professionally produced, age appropriate, and so much fun to watch!
Both of the boys were hesitant about the "pretests". I had to let them know right away that this was not a graded part of the assignment, but a chance for them to know what they knew about the subject they were about to watch. Then after the video and the posttest, they would be able to see what all they learned on the subject. They really liked that, especially Caleb. We covered a few topics he had never heard of, and was sad about that during the pretest. But after the posttest, he grinned so big and said, "Mom, look at all the questions I know the answers to now!" He was excited to "see" what all he had learned in such a short time! I love it when they are excited about their learning!
I have to admit, because of the new baby, we didn't utilize any of the hands-on projects. But I am looking forward to using many of the materials now that we are back to a (semi) regular schedule. We also haven't had a working printer for the last couple weeks, so they weren't able to use all that worksheets. We improvised, did the tests orally and just looked at them on the computer.
Overall, I think we will use segments of DSI in our homeschool. I know Canon and Caleb will definitely enjoy it as we go along. I will be viewing the video scripts prior to assignments for evolutionary content. The annual subscription for homeschoolers is $99.99, so it is cost effective for four students. I look forward to seeing what learning adventures await us!
If you want to connect with Visual Learning systems, you can here:
Many of my fellow TOS Reviewers got to use DSI, as well. To read their comments, click here: