The kids and I were excited to receive our package from
Egglo Entertainment
. We received a great bunch of products:
Egglo Entertainment is a business started by a mom who wanted to keep her and her children's hearts and minds focused on Jesus through the Holy Weekend. Her idea began at her own church when they hosted a nighttime Easter egg hunt with flashlights and just grew from there. Now there is an entire line of products to help families celebrate and share the light that Jesus brought into the world.
It's important to know that the Eggs need time in the sunlight to "charge up". They absorb light in order to glow in the dark. Unfortunately, we have been in short supply of sunlight around here lately, so I used the alternative - our kitchen lights. I left them under our kitchen lights for an hour as recommended, and they barely glowed that evening. The light emitted was extremely dim. So we tried again the next day outside. Much better! It was too cold to have the hunt outside, so we covered up Chloe's window and had a hunt in her room and walk-in closet. It was a lot of fun, and Castle was very impressed with the shining eggs! :)
Charge them in the sunlight for the best results
Tada!!
"Shiny egg!"
We read
The Eggscellent Easter Adventure
one evening together.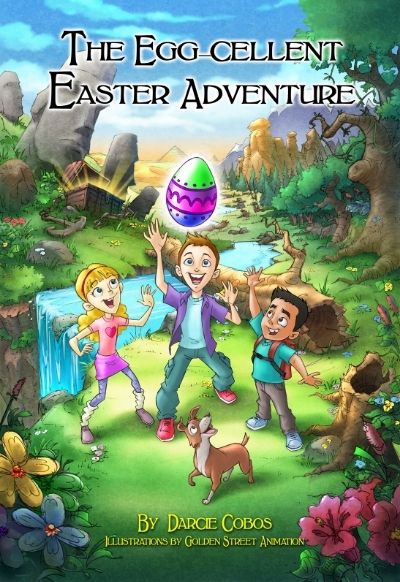 The story is about Hardy, his sister Ana, their cousin Pascal, and their dog Zeke. They are caught up in the excitement of candy and the coming egg hunt, and they are too busy bickering to remember the real reason for the celebration. When they go to the attic to look for something to do while waiting for the hunt, they are swept up into a grand adventure filled with excitement, life lessons, and the light of Jesus. They are transformed by the message of Jesus' resurrection. My kids really enjoyed the story, even the 13 year old! He said later that he'd really enjoyed the message of the book. I was glad to know that he got it. Sometimes we all get caught up in the worldly aspects of the holidays, and that's not all bad. But when it takes the focus off Jesus, it becomes a real problem and taints the beauty of the celebration. This book and these eggs reminds us to focus on what Jesus did for all of us, and to share this revelation with others.
The little scrolls and stickers fit nicely into the eggs. There are many other things you can order to fill your eggs on the Egglo website. Always a good alternative to candy, and it's sharing God's word in a real and fun way!
I expect there to be many indoor and outdoor hunts in the coming days...taking one of their favorite Easter traditions and using it to share Jesus with family and friends is something they are looking forward to, and so am I. I plan on having a hunt with my AWANA kids this weekend and reading the book to them, as well. I will definitely use it again with the kids and their cousins on Easter night, too.
Having fun with the eggs
Little scrolls with God's word
"See my sticker?"
The curriculum event guide is full of so many ideas and supplies, I can't even begin to utilize all that I want to. It has over 60 pages of ideas for games, snacks, coloring pages, invitations, and so much more. This would be a great tool if you are hosting a large event for your church. Egglo also offers multiple discounts for
bulk orders
!
When I first saw the prices, I was a little concerned. Ten dollars for twelve eggs seemed a little high to me. But when I used them with the kids and saw how much they loved them, I knew it would be a good purchase to use again and again. The book is fun, lighthearted, and carries valuable lessons the the kids really took to heart. And the scrolls and stickers are just so cute! I believe it is an investment that you won't regret.
If you want to follow Egglo, connect with them, or do your own research, you can find more info here:
Many of my fellow Review Crew members reviewed the products, too. Check out their opinions here: