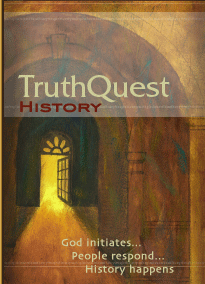 Truth Quest History
is a new and interesting way to teach history to your children. The publishers have redefined what history is REALLY about. We've been taught it is about the accomplishments and paths of men. But Truth Quest refocuses our eyes on the true story - the revelation of who God is and how man relates to that truth. As a whole, people are motivated by their basic beliefs about God, whether true or untrue. The consequences of their Big 2 Beliefs (Who is God, and who, then, is mankind?) are what we read about in history.
Truth Quest is broken down into nine chronological study guides from Creation to 2000 A.D. Within each guide, your student will be introduced to the primary action taking place in that time, always with the premise of the Big 2 Beliefs in the forefront. A list of living books that coincides with the time period is provided to peak your child's interest and curiosity, as well as let them delve deeper into the topic at hand.
We reviewed American History 3: 1865-2000.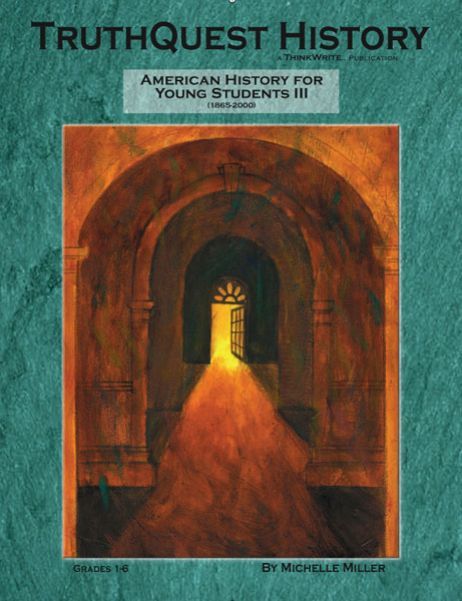 The kids really enjoyed the way the text was written. It was almost like having a conversation with somebody about history instead of reading a typical history book! Serious subjects like slavery and The Great Depression are written in a way that the my children learned something on the subject, but weren't bored or overwhelmed with a lot of names, dates and dry things like that. They learned about the personal stories and experiences of people and came to understand or empathize with those individuals. I think that's why we learn about our history in the first place - to understand and learn from those examples set forth before us. We have a lot more to read in this book, but I'm very pleased with what we've studied so far.
One problem I had was that we were unable to find many of the suggested reading books to go along with our study. We have a great library available to us in SW Missouri, but many of these titles didn't even pull up in their system. Also, I would have liked a little more extensive help with the read alouds. I think if we could have had suggested excerpts from books, or study questions to go along with the books, the kids would have taken more away as well as covered more of the books. I understand some people would stop and take several weeks for each time period, but I think that is too long for the ages of my children.
All of Truth Quest's guides are available in PDF ($19.95-$29.95) or hardcopy ($24.95-$34.95). You can check out samples of all their materials on
here
on their website.
**Don't just take my word for it! Check out some of my fellow TOS Crew Members' reviews
HERE
.
***Disclaimer: I received this product via TOS Homeschool Crew in exchange for an honest review. I was not required to write a positive review; all opinions stated are mine or my children's.