My baby turns four tomorrow...and I am not handling it well. So when people ask me when I plan to start formally "schooling" him, I really don't have my happy face on! I can't believe it's already time! I mean, I didn't think he was even ready for that...up to about six weeks ago, when
Reading Eggs
showed up in my inbox. Boy, was I wrong!
Reading Eggs is an online program that introduces children to the world of reading. It is geared for children aged three to seven, and can place a child on which level he/she should begin his learning journey. Since Caleb has not been formally taught any reading yet, we started at ground level. It is a gradual, fun process, using engaging characters and lots of music to get the child excited about learning. From day 1, Caleb was hooked! By day 2, he knew four letter sounds, and by day 5, he recognized a couple two-letter words. And he doesn't even realize how much he's learning...he just wants to play! This is what learning should feel like all the time for young children.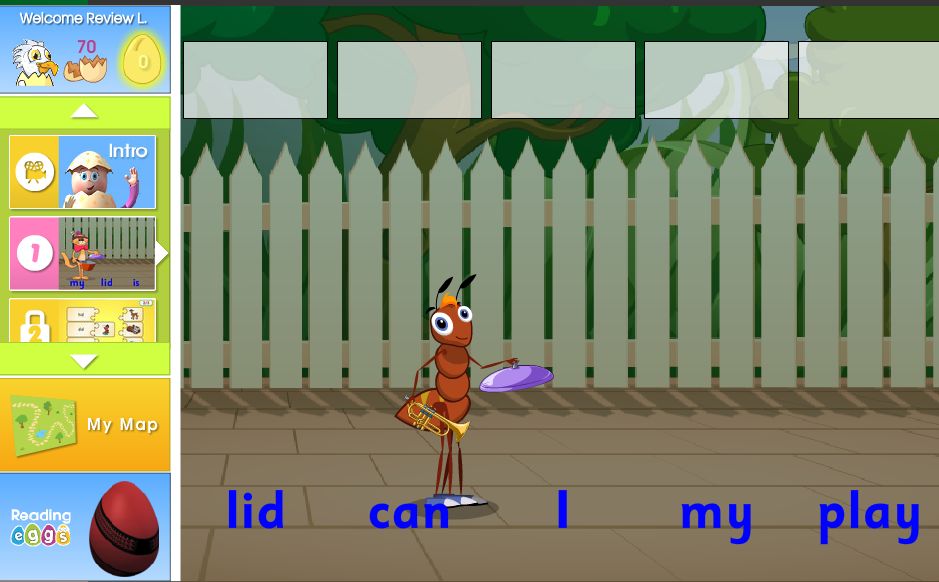 This is Sam - Caleb loves him!
Here are some things that we love about the program. First, Caleb can see how far he's gone and how far he has to go to his next level. The map is cute and fun, and it tracks your student's progress for you - so neat! Second, for every activity completed, they earn "egg money", which they can spend in the arcade. Caleb got so excited to see all the games he can play - it's just like some of the game sites his big brothers play on, but are too hard for him. These games are just right for his age level! Third, you can go back and do lessons again and again. This provides great review for when you think they "got" it, but actually didn't. We have had to revisit a few lessons when I realized he really didn't understand something. It's so nice to have that option!
Here is a photo of the map. On the sidebar, you can see how many eggs have been earned and how many places have been unlocked. We haven't even begun to learn about all the awesome things this website has in store for Caleb!
Another great thing about this program is the price. I can't believe how affordable it is, what with all the content it provides. I am certain that I will be buying a membership after my trial period. It's the hour of the day that Caleb looks forward to most right now, and that is worth every penny! Payments range from $9.95 a month to a greatly discounted yearly package for $75. There are even more discounts for additional children, as well. Check out the payment options
here
. There is also a
two week free trial offer
that you won't want to miss! And I don't want to forget to tell you about the reading books that you can purchase to coincide with the lessons your child is doing online. I can't wait to get my Level 1 pack for Caleb!
It's hard to watch my baby grow up. And I wasn't looking forward to doing this review specifically for that reason. However, this has really been one of my favorite sites all year. How quickly I'd forgotten the joy that springs up in my heart when I see my children learn new things - and be excited about it! I hope you check it out for your younger children. You won't be disappointed!!
*Don't just take my word for it! Check out some of my fellow TOS Crew Members' reviews
HERE
.
**Disclaimer: I received this product via TOS Homeschool Crew in exchange for an honest review. I was not required to write a positive review; all opinions stated are mine or my children's.