We have been dealing with fleas in our home - and it's been a blast! R&R Games' new card game, Flea Circus, has already provided our family with a load of laughs.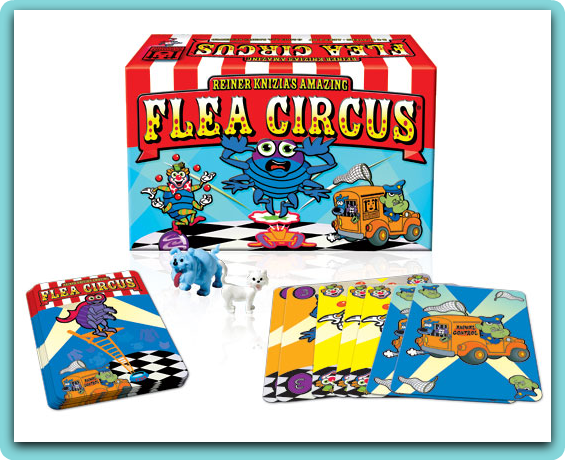 The game is a basic counting game with a few twists added in for fun. It is recommended for ages 6-7 and up, but my niece Molly (who is 5) kept up just fine. Here is how the game works:
The story - You are the leader of a "flea" ring circus! Your goal is to have the most dogs and cats watching your act. You may collect spectators from the middle pile, or steal them from other acts! The one with the most spectators at the end of the game wins!
Now I have to admit, when we got the game out for the first time, I was a little skeptical. The graphics on the cards are cute, and the dog and cat figurines are adorable; but when I pulled out the instructions and saw how many rules there were for a kids' card game, I got a little worried. They aren't worded in a difficult way, there were just a lot of them! If I hadn't been playing, I think the kids would have had a difficult time figuring it out on their own. Luckily, we play most games like this as a family. ;) The first round was a little confusing because we kept having to re-read the directions; but after the second round, we all had a pretty good grip on how to play...and it was on!
The kids are very competitive, and one in particular - cough, CONNOR, cough - HATES to lose. So when I realized that stealing from opponents was part of the game, I was concerned. However, he dealt with the blows very well...especially when he could exact revenge on practically the next hand!!
It's a constant back and forth, one stealing, another taking back. You sometimes get caught up in that and forget to use the pick pile. Which is bad if you ever want the game to end...but could be good for those with unlimited attention spans! :D Once the pick pile is empty, the one with the most dogs and cats wins the game.
R&R Games specializes in family oriented games with an educational bend. Their mission statement showed me quickly how passionate they are about family time: "Our Mission is to produce high quality family board games so that we can play around all the time. Fun games. Challenging games. Big games, little games, games that climb on rocks... (Oh wait, that's something else...) Anyway, that's our mission."
They are so excited to share their product, that they sent me a coupon code to share with my readers! Now that's a company I can get behind! If you buy a game from their website,
R&R Games
, use this code
CREW20
for 20% off your entire purchase! And with Flea Circus costing only $15.95, this could be a great buy (think early Christmas shopping, people!)
We have played this game several times a week since we got it, and I've enjoyed it as much as the kids. We've even gotten Kelly, who is not a big fan of games, to play with us a few times. It is good, clean fun for the whole family...even if it does involve fleas! :)
**Disclaimer: I received a free trial from
R&R Games
via TOS Homeschool Crew in exchange for an honest review. I was not required to write a positive review; all opinions stated are my own and my children's.