Civilize This! from Griddly Games is an extension pack to their already popular Wise Alec trivia game. This pack of trivia cards can be added to Wise Alec, or played on its own. You are challenged with Ancient, Medieval and Modern History questions; and if you are up for the challenge, you may even score points by getting a Wise Alec card. With this card, you may perform a silly challenge, or lose points just by bad luck. Either way, it's a lot of fun for everyone.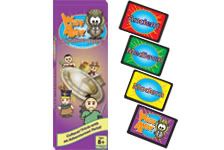 We have added this into our school day a couple of times a week, simply because it's so user friendly and gives the kids a great chance to review information from previous school years. We've all learned several new interesting tidbits as well! As parents, we've enjoyed the educational aspect of the game, but the kids have loved the Wise Alec cards the most. It's so much fun watching the kids trying to walk like Egyptians, or stand on one leg while balancing a book on their head - we've even gotten daddy to do a few silly things...but I'm not allowed to post THOSE pictures! ;)
Civilize This! is recommended for ages 8 and up, mainly because younger kids won't know much about these time periods. But because of the fun that the Wise Alec cards bring in, my 7 year old still loves playing - even if he misses most of his questions! :)
Since we didn't have the original Wise Alec game, we just played it like a card game. Roll the dice, pick a card, answer the question and get your points. We'd usually play to 25 points. I checked out Wise Alec on the website, and it comes with a game board. That may have been a little more fun and interactive for the kids, but we liked it fine the way we have played it as well. Also, with the original game, you can only have 2-4 players. When you just play with the cards, you could have more than 4 playing without any problem.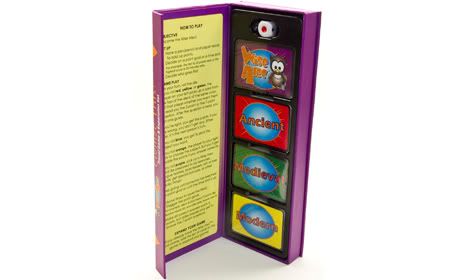 Griddly Games website
gives you a review of their products, but you can't order directly from the site. However, all of their games are listed on
Amazon.com
. Civilize This! is $14.99, as well as their other expansion packs. If you are looking for a fun way to get your kids into history, or you just want to increase their knowledge base, I recommend this game. It's a fun way to learn new facts, plus have a little goofiness added in for good measure - always a bonus in our house!
**Disclaimer: I received a free trial from Griddly Games via TOS Homeschool Crew in exchange for an honest review. I was not required to write a positive review; all opinions stated are my own and my children's.