I had the opportunity to meet a nice young man at the SHEM Convention this spring. His name was Jason McIntire. Connor had returned to his booth multiple times to visit with him and gaze longingly at the game he was hoping I would purchase that day,
Settlers of Catan.
He was very engaging and I enjoyed visiting with him. Through our conversation, I told him that I blogged and wrote curriculum reviews. He told me that he was a writer, and he asked me if I would be interested in reviewing for him sometime in the near future. I told him I would love to, and I looked forward to hearing from him. So though I'd never read any of his previous works, I was excited to see what kind of book he would send me.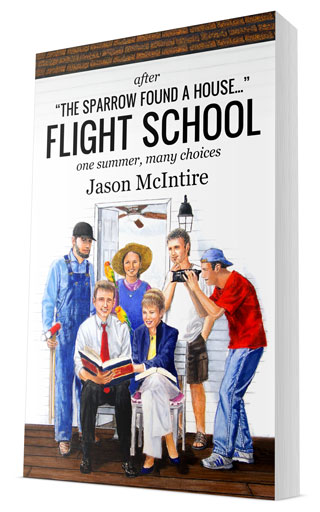 Flight School
(Elisha Press, 2015) is the second book about the Rivera-Sparrows, a newly blended and homeschooling family. The sequel to
The Sparrow Found a House
, the adventures continue for the children Ben, Chris, Jessie, Katie and Moe. As the older children are on the brink of adulthood, career choices and their walks with God may take them down very different paths. But the bond of family is not easily broken, and a life built on a firm faith in the Lord can lead to amazing encounters.
Having never read the first book, I wasn't sure how easy it would be to get into this novel. I could tell at once that the first story must have dealt more with the characters of the parents and how the two families became one. However, I was quickly pulled into the family dynamic - two stepbrothers that are best friends, two sisters with seriously different personalities but complementing each other beautifully, a fun loving little brother, a wise grandmother, and two parents doing their best to raise children in the fear and admonition of the Lord.
Ben and Chris are spending their final summer after graduating from homeschool to share in each other's passions. Chris is secretly hoping that Ben will fall in line with his own dream of Christian film-making, but Ben's pursuits are taking him down the path of college and Washington D.C. - not to mention a lovely friend with big ambitions. While attending a film course, the boys meet Galen, and he and Chris strike up an immediate friendship encompassing their vision for creating a mini film over the summer. With Chris finding a new partner, Ben is happy to follow through with his internship with a conservative Congressman and learn more about the law and see if his talents can take him to the top.
Katie and Jessie have a lot to do this summer with Mom and Sarge's announcement, and they both spend time seeking the Lord to mold them into His image. Katie's talents can lead to a sense of pride, but Jessie's humble heart can always bring her back to the right choices. They are blessed to spend time with their Mullerite friends (a made up people group who will resemble what you may know as Anabaptist) who live close by. While Jessie is growing closer to her Plain living friend, Chris brings his new buddy Galen home for the summer to work on filmmaking. Galen, a fun loving, yet somewhat brash young man, may have his sights on his new friend's little sister. Pulled between the two boys and their completely opposite personalities - not to mention the excitement of writing for the film - Jessie has much soul searching to do.
With the guidance of the adults in their lives, the kids have many choices to make - in just one summer. How will it all play out? I really want to encourage you to read this book. It is not often that I can recommend a book to virtually anyone. Jason's writing skills are very strong, and you truly feel like you know this family at the end. His biblical insight and the way he molds the characters with godly life lessons is a breath of fresh air. I love to read all kinds of literature, but sometimes feel let down by some Christian fiction that are only loosely Christian. There isn't a doubt where these characters find their wisdom and grace - from the Father above.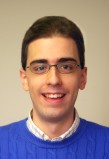 Jason is a homeschool graduate who helps run the family business. His favorite pasttime of writing looks to be shaping up as much more than a hobby. His ability to draw in an audience and impart godly wisdom throughout the story is sure to bring him to the front of Christian fiction very soon. I am thrilled to share this find with you - I hope you check it out!
***Today Elisha Press is announcing the release of a sequel to
The Sparrow Found A House
- and to celebrate, they're giving away signed copies to four randomly-selected winners. You can
enter the giveaway here
, or go ahead and order the book on
Amazon
. It's $2.99 for the Kindle version, or $9.99 for the 256-page print edition.***