Have you ever wondered where your kids were in their math skills? Sure, they can make good grades on their daily work, and they seem to be doing ok on their tests. But do you wonder if they are really learning? Are you afraid you've missed something? Are you SURE they've missed something? Your concern most likely has to do with a learning gap - something that you believe has been covered in a curriculum, but possibly missed, or skipped, or presented in a different order, thus leaving a gap in your child's math skills and hindering their grasp of new concepts. I know I certainly have. That is why I was so thrilled to be able to review
A+ Interactive Math by Tutorsoft
. We were chosen to review the
Adaptive Placement Test with Individualized Lesson Plans
portion of their program for all four of our school aged children.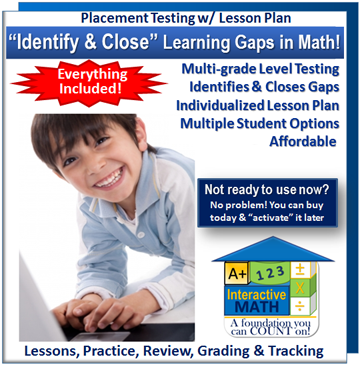 We began by having the kids take placement tests. Each grade level has multiple tests. Each test focuses on a specific skill set, such as addition or subtraction, fractions or algebra. Some tests are approximately 30 questions, some are only about 12. Depending on how the student scored, the computer will either congratulate them and tell them they are at grade level on this concept, or it will let them know they have some work to do on the concept direct them to "individualized lesson plans". After watching a video on a missed concept, the student will have an interactive Q&A session. If there is more practice needed, you can generate worksheets for the student. Once you believe he is ready, you can have him take the placement test again.
Of course, depending on grade level, you may be overwhelmed by the number of tests to be taken. If you know what your child has been working through in their curriculum, you will probably have a general idea where to start and what to focus on. As for me, I've been pretty hands-off with math for the older two this last year. The kids have been using a math program that is self grading, and all I've been doing is checking their scores. Because of this, I wasn't exactly certain what all had been covered and what they may have missed this last semester. So with Connor and Chloe, we have just taken our time, going through each concept and seeing where they are needing improvement. With Canon and Caleb, I had a better sense of where they were - or should be - and went with that. I still am having all four of them take every placement test since we have the opportunity to see every base covered.
It is fun for Canon and Caleb to see their men marching farther along the progress line!
As stated before, after taking the placement tests, you receive a pass/fail type message. When you need improvement on a concept, you are referred to the "individualized" lesson plan pages. This is where I found the one thing I didn't care for about the program. The lessons were NOT individualized. For example, if your child takes the fraction placement test and isn't at grade level, you are directed to the lesson plan page for fractions. Even though your child may understand adding and subtracting fractions with different denominators, they may not understand how to invert the second fraction in order to divide. Unfortunately, the lesson plans are not that specific. If the child is not at grade level according to the Placement Test, EVERY lesson regarding fractions is put into their lesson plan: adding same denominator, subtracting different denominator, dividing fractions, converting fractions to decimals and so on and so forth. I wish the computer would have evaluated the tests, found where the weakness lies within that concept, and developed a lesson plan to strengthen the student in that specific area. Just saying they aren't at grade level in fractions when there are SO MANY concepts to learn about fractions is a little discouraging.
A portion of concepts in one subject area

Even though I was a little frustrated by this, I was able to review the tests and see exactly where my kids were struggling with a concept and direct them to the lessons that would help them. It was a lot more work for me, but very rewarding in the long run. The lessons are thorough, well explained, and stimulating enough to keep my kids interested. In all the weeks we have worked with A+, none of the kids have complained when it was their turn to work on math. I have seen great improvement in all four students.
I loved it from a teacher's perspective because I could view their summary reports and progress reports and see those gaps I was concerned about being filled. The kids loved being able to see their pages turn from blue (not taken) to red (not at grade level) to green (at grade level, SUCCESS!).
SUCCESS! Caleb's at grade level in every first grade concept! Onward and Upward!
He was very proud of his accomplishments - so was Mama!
When you stop and think how much there is to know about math, it can seem overwhelming. When you have to stop and think how to teach all those concepts to your children, you may start to hyperventilate! A+ Interactive Math could be a great assist for you in this area where so many parents feel weak. It will engage your student, motivate them to work on a concept until they are feeling confident in their ability, and give them a sense of accomplishment when they see the progress they have made. I am looking forward to seeing even more improvement in my children's math abilities with A+ Interactive Math.
Mr. Monkey rewards you for a job well done!
*Hurry, hurry! Starting Monday, May 4 through May 18, Tutorsoft will be offering 40 to 50% discounts on the "Family Math Packages" and "Adaptive Placement Testing w/Lessons" program - a great deal for the coming summer months! Tutorsoft is very excited and interested in helping homeschool families find a perfect fit with their program by offering
Free Placement Tests
and samples of
Free Family Math Packages
. Go to the site, check out what they have to offer, and give them a try.
You can see more reviews of the Adaptive Placement Tests as well as A+'s Family Math Package by my fellow bloggers here:

A+ Tutorsoft is also active on social media. Look at these sites for more info:
/