A country under attack. A young boy with high hopes of vengeance, in need of guidance. The hero he admires. That hero's journey of faith.
Heirloom Audio Productions
has brought the story of one of the greatest warriors in history, William Wallace, to vibrant life with their presentation of G.A. Henty's
In Freedom's Cause
.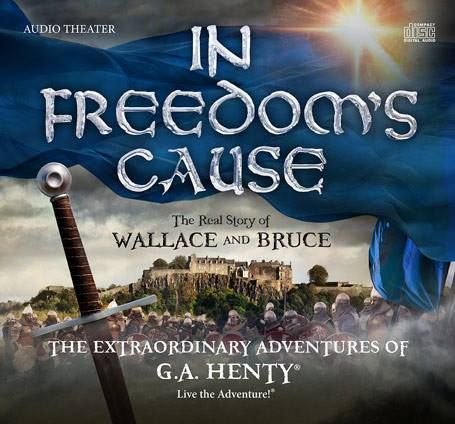 I was sent the
In Freedom's Cause single package
($29.97) for my TOS review. I also received these special bonuses:
- MP3 download of the audio production
- E-book download of GA Henty's original story with new graphics
- Official soundtrack
- Promotional cast poster
- Printable copy of William Wallace's prayer
- Full access to the membership website
- Behind the scenes documentary with a run time of 30 minutes
- Study Guide and discussion starter
- Cast and characters roadmap
Our family has always enjoyed listening to audio books. The freedom of being able to throw a cd into the player while in the van, or freeing my hands (and saving my voice) to do other things while the kids learn is always a great occasional change of pace. Heirloom Audio Productions does not just give you a book on cd, however. It is a full theatrical production that will immerse the entire family, taking you back in history as if you were there. The detail that goes into the making of these productions is truly impressive.
We listened to the first cd in the car one day, then the second cd in the house another evening. At first, Caleb was a little frightened. He said it was creepy and he didn't want to listen. However, he was soon engrossed and completely enjoying himself.
I love accents - British, Scottish, French, you name it. So I was thoroughly captivated by the storytellers and actors right away. I really felt like I was in the middle of the story, and I loved every minute of it. I also found it enjoyable to recognize some voices: Skandar Keynes (Edmond, The Chronicles of Narnia), Joanne Froggat (Anna, Downton Abbey) and Billy Boyd (Pippin, The Lord of the Rings), just to name a few.
I perused the study guide and discussion starters. I loved how there were questions of many age levels. Some my 6-year-old could answer with ease, others that left my 11 and 13-year-olds deep in thought. There was a good deal of information that they knew, but a lot of details that they missed. They actually said they want to listen to it again sometime soon so they can get more out of the story the second time. :)
Although I liked the study guide's questions, I did have one complaint. I was in and out, running errands and doing housework or taking care of the baby. So there were good chunks of the story that I missed. I wish the study guide had the answers to the questions so I could keep up on the parts that I had missed. I used this as our history for a week, so I wish I could have had a better idea of how much they retained. Since I missed so much, I didn't know whether or not they had answered correctly or thoroughly at times.
Overall, I think
In Freedom's Cause
was one of the best audio books we have come across in a long time. Heirloom Audio does a fantastic job of drawing their audience into the story, making history truly come alive. They have already announced their next project will be released around Memorial Day. It is called
With Lee in Virginia
.
I am excited, and I can't wait to order!
Check out what my fellow TOS Reviewers had to say about this great product here: