Zeezok Publishing
- this could be one of the best kept secrets out there in the homeschool curriculum world. I had no idea what Zeezok even was, so I'll assume you have never heard of them, either. Zeezok's Z-Guides are study guides of sorts...for movies. Yes, I said it. Movies! Now for those of you who know that countless hours of my childhood revolved around movies (my parents owned video stores, and movies were my constant companions), you ought to understand how excited I was about this product! And it's not just any movies that the Z-guides cover, it's the classics. We were privileged to review the Z-guide for "Mr. Smith Goes to Washington".
Ah, there is just something about Jimmy Stewart that makes me swoon...
(SIGH)...
Oh, sorry, back on track! ;)
The Z-guide is a comprehensive guide that incorporates book report-type review questions, plot overview, and history. This guide took us through the legal process of how a bill becomes a law. We learned the Gettysburg Address. The kids learned some very important lessons about how government SHOULD be run...and how it actually IS run at times. They learned, and internalized, that one person CAN make a difference, and that they can take action in their government
now
, at 7, 8 and 10 years old. I was amazed and appreciative of the content of this guide.
Oh, yeah, and my kids sat through a 2-hour-long, black-and-white movie...and survived! ;)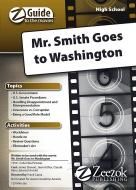 The
Z-guides
cost $12.99 each and are comprised of short lessons that can be distributed over a week's time. It is not all-consuming, but can be looked at as a fresh change of pace in whatever subject the movie covers. You may be worried that you won't be able to find some of the older titles, but fear not! Zeezok carries every movie that they have created a guide for. Oh, and did I tell you? They are continuously working on extending their line. Here's what they had to say on the site:
"Our Z-Guides to the movies have been a big hit this year. We are working diligently to produce more and fill in some gaps in the history timeline. We anticipate adding one or two each month for awhile." YAY!
Zeezok Publishing carries a variety of different products that you can check out
HERE
. I am sure that I will enjoy purchasing from them for years to come, and I hope you will, too.
*Don't just take my word for it! Check out some of my fellow TOS Crew Members' reviews
HERE
.
**Disclaimer: I received this product via TOS Homeschool Crew in exchange for an honest review. I was not required to write a positive review; all opinions stated are mine or my children's.