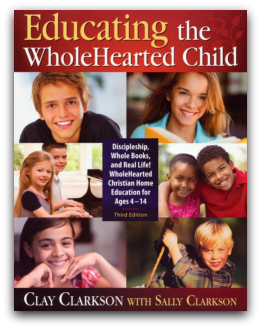 Apologia - Educating the Whole Hearted Child is a popular homeschool guide in it's 3rd Edition. It gives you amazing tools, detailed information, and a godly reasoning to help you in your homeschool journey. Clay and Sally Clarkson are Christian homeschoolers who have a desire to educate all God's children who are endeavoring to follow the Lord through homeschooling. They give sound biblical principles that will open your eyes, and dare I say, humble you in more ways than one.
I truly think this book is one of the hardest reviews I have had to write. First, because this book is so big, so all-encompassing, so life-altering, that whatever I say will not make you grasp how excellent this information will be to the new or veteran homeschool parent. Second, because I'm only 1/3 of the way through it!!
I truly had to slow down in my process of reading this book. Typically when I read a how-to-homeschool guidebook, I can peruse the table of contents, skip around till I find something interesting, and write my review as I go. Unfortunately, every chapter seemed to be a topic I wanted insight on, so I decided to try to read it cover to cover - big mistake! I have to tell you, I have spent many moments on my knees praying for God's help in our homeschool after just reading a few paragraphs.
The Clarkson's touched my heart through this book. They humbled me, they encouraged me, they challenged me, and they looked right into my heart and reminded me that every day of this life is to be lived loving and reflecting Christ. If I stray from that model, who on earth is going to show my children how to love their Lord wholeheartedly? Here is a quote that brought me to tears (if I typed all of those, you'd be reading the majority of the first 60 pages!):
"Like a shepherd who leads his sheep to life-giving water and pasture, your first responsibility as a parent is to lead your children to the life-giving presence and reality of Christ in our heart and home. Our desire should be to implant a longing in their spirits for God that can be satisfied only with the water and bread of life in Christ."
That may seem obvious to all of you reading this, and it is to me as well. It's one of the main reasons for us to homeschool. However, I read this section from Chapter 3: Home Nurture just a little while after Connor and I had had a difficult English/Spelling lesson. Even when I know the areas he struggles with, I find myself making it ever more difficult for him by being frustrated with a poor grade. This core reason for homeschooling so often gets pushed aside by my drive to make him a straight-A student, which God may never plan for Him to become. However, I am certain that God intends for Connor to become a passionate servant of the Gospel. Reading this made me realize that my priorities must change in order for my family to honor God above all else. Does that mean we stop striving for excellence? Not at all! But it does mean that my job is to nurture my children, to guide them and instruct them with grace and mercy - not groans and mutterings.
This book also gives a great breakdown of each education model available to the homeschooler today. They have made it easy for you to compare and contrast each model side by side. They do not push any one model, but give you pros and cons to each. That is so refreshing, to not feel pressured while researching.
ETWHC is broken into 4 sections: Home, Learning, Methods and Living. I haven't even delved into Section 4 yet, but I know there will be treasures galore for me to glean and learn from. I am certain that this book will be a blessing to you and your family. I know it has been for mine.
*Educating the WholeHearted Child ($22.00) can be purchased online on their
website
.
**Don't just take my word for it! Check out more reviews from the crew
here
.
***Disclaimer: I received this product via TOS Homeschool Crew in exchange for an honest review. I was not required to write a positive review; all opinions stated are my own.