I love giving gifts. However, there are some people that I struggle with finding just the right something that will bring joy to the receiver and show just how much I care. I have gone the typical route in the past - bath gels, hand soaps, coffee gift cards. But I had a chance to review a lovely product that will fit the bill for several gift giving opportunities in the future:
CrossTimber
. I reviewed their personalized framed plaques with name meanings and scripture.

CrossTimber has a host of personalized gifts to choose from: different sized name plaques, personalized mugs, and music boxes as well. The Dehnerts are a homeschool family who have found their small business niche in printing and now the personalized gift industry. John has spent 17 years running his own business.
I know many people who struggle with choosing their children's names. Naming a child is a huge responsibility, and many people do endless research and pray that their name will bring honor. Others choose family names or go a completely unconventional route. Whichever way they go, everyone knows that a name can carry significant meaning for its bearer. But not all people even know what their name means! John and his wife Katie do research, write stories, and find beautiful pictures to create unique and beautiful gifts for their customers. For someone who married into a family who takes great pride in their family name, I saw the value of this gift right away.
I chose a screenprint of our last name, Quinn. I got to scroll through dozens of different pictures to choose my backdrop. You can choose backdrops from these categories:
Faith & Inspiration
Animals & Creatures
People & Relationships
The Great Outdoors
I browsed through The Great Outdoors. There were sunsets, mountains, rolling hills, oceanscapes and so much more. But I settled for a Gaelic design with an Irish knot scrollwork making the border. Then I typed in the name and chose a frame. They have several choices at different price points, or you can choose the Frame Artist's Choice button and they will pick one from an array of special frames they have. Click and done!
When I received my order, I was very pleased with the printing. It has a lovely background that is in earthtones, making the red and green in the design very vibrant. And I absolutely love the scripture chosen to accompany our family name. It will hold a place of significance for my family from now on. I will admit, I wasn't blown away by the frame, unfortunately. It was just a plain, wooden 8x10 frame that I could purchase from any discount store. There were also two prongs broken off the back. The back was still secure, so it wasn't worth going throught the trouble of having to return it. It hangs just fine.
The Dehnerts pride themselves on customer service, and my order was no exception. There was a small hiccup with a mailing mixup, but John contacted me very quickly, even before I'd had time to check into it myself. He oversaw the entire situation, cleared up the mistake and communicated with me throughout the entire transaction. I was very impressed! I have had trouble in the past with online ordering, and this was a breath of fresh air to have that personal touch. Even though we never met, I felt he cared about me and my purchasing experience. I am happy to encourage anyone to order from CrossTimber!
For holiday shopping, CrossTimber has some great discounts when you buy multiple items: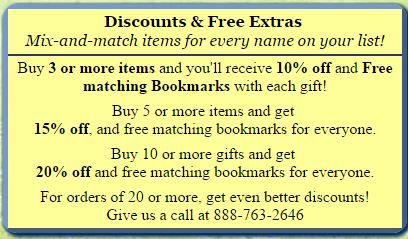 CrossTimber is also having a giveaway from now to December 4! Click here to enter:
To follow CrossTimber on social media, go to these links:
To see more reviews from TOS, click here: