D is for Duck. G is for Girl. S says "S", but it also says "Z". Hard C. Soft C. Vowels! Consonants! Syllables! Oh, my!! Grammar can be scary for kids, and all the rules of the English language can seem very overwhelming. But putting those many rules into practice with a curriculum that helps you learn in a fun and entertaining way can make schoolwork go from a time of torture to a time of proud achievement.
Alpha Omega Publications
gave Caleb and I the opportunity to hone these and many other skills with their
Horizons 2nd Grade Phonics and Reading Set
.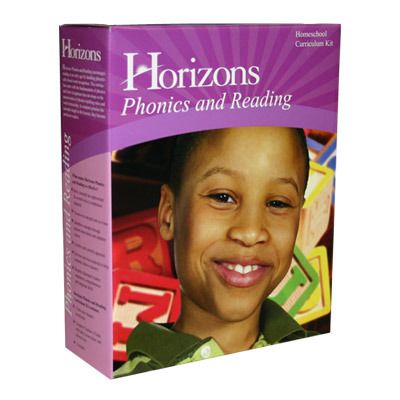 AOP has a long history of success in the homeschooling community. They are well known for their Christian based learning and they have been recognized and awarded by
TOS Magazine, Practical Homeschooling
, and was chosen the Top Homeschool Curriculum of 2013. They provide curriculum in cd-rom, online, student-paced, teacher-led and unit study formats. Horizons is their teacher-led workbook program.
The Horizons Phonics and Reading Set comes with 2 Phonics Workbooks, 2 Readers, and a Teacher's Guide. There are 160 lessons and 16 tests to cover for the school year. The workbooks are fully illustrated, brightly colored and greatly engaging to Caleb. We haven't done a lot of workbook, seat-work type learning with him yet, so he finds the workbook pages fun when he and Mommy sit together to figure out the pictures. His penmanship is improving with the work, too - which he is quick to point out to me!
There have been some frustrating moments, however. Sometimes the pictures were very hard to discern. For example, in Lesson 5, there is a picture of a girl walking through a red door. The word it was supposed to represent was
arrive
. There is no way I would have come to that conclusion, let alone Caleb on his own. I suppose I was expecting this to be more of an independent type learning time, but with the difficulty of some of the words, I understand why the teacher should be with the student at the time of completion. The Teacher's Guide has a very specific guide on how you can teach this curriculum that I probably should have implemented from the get-go. :/ Here is the recommended teaching format:
"The student is to complete the activities after you have gone over the instructions, discussed the pictures, and
reviewed the words
." [emphasis mine]
Mom fail #33790, not that I'm counting.
The Readers have excerpts from poems, short stories and classic novels, Robinson Crusoe being the main text. Caleb is loving the stories! The adventure and thrill of exploring nature really has struck a chord with him, and I'm so glad he is enjoying these abridged chapters. We sometimes switch off on the reading - he'll read a few paragraphs, then Mom reads one - so it goes a little quicker and he has a chance to rest (being 7 is exhausting, you know!). The Teacher's Guide gives you a few comprehension questions to go over with the student after the reading. These are a great jumping off point for further discussion, and it introduces terms and ideas in literature that I wouldn't have thought to introduce to a 2nd grader. We have already talked about characters, setting, plot, and theme - not necessarily using those words, but definitely preparing the student for future literary analysis in a fun and nonthreatening way.
I will definitely continue using Horizons with Caleb this year. He is a very busy boy, and he doesn't like to sit all day for schoolwork. But he is happy to work alongside me one-on-one for his Horizons books. That's a sell for me!
To follow AOP on social media, they can be found on the following sites:
Facebook
Google+
Twitter
Pinterest
Instagram
To find out what other AOP products were reviewed by TOS, check out my other review crew members here: