I don't know about you, but sometimes our homeschool hits a rut...especially this time of year. Now when that happens, I rack my brain trying to come up with something new that will spur us through that rut - a new read aloud, a project of some kind, a lapbook activity. Having kids in many different developmental and grade levels, it can be very difficult, and having two or three extra projects going at once can be overwhelming. But this month, I had the opportunity to review
schoolhouseteachers.com
for the TOS Review Crew. They gave me a
Yearly Membership
to the site - this is the answer, and then some!
Schoolhouse Teachers is an online website that is a virtual treasure trove of learning. I was simply blown away with the amount of educational material, the variety of subjects, and the quality of it all. Truly, nearly every subject you would want to pursue is here: art, history/geography, foreign language, math, music, language arts, science, a multitude of electives, and so much more! There are lessons for every grade level from pre-k to 12th, not to mention the resources for parents. There are lesson planners, courses/teaching strategies, even menu ideas! Let me tell you, I am loving this!
Point, Click, Teach!
I had Connor go through the electives pages and see what could be of interest to him. He immediately was drawn to the Computer Science course (could it be because Minecraft was mentioned??). He has only worked through the first module, and a lot of the information has been a review of what he has already learned elsewhere, but he is very impressed with the layout.
"So far, I've learned different programming names, reviewed the parts of the computer, external and internal parts. I'm learning the difference between code and source code and when you use each of them, and it's really cool."
Chloe has been very busy this year with theater, so we had to make the decision to pull her out of private violin lessons. She has really missed it, and I have been worried about her losing some of her skill. So when we found violin lessons on Schoolhouse Teachers, we were both very excited. Unfortunately, there was a little drawback. Chloe has had 2 years of orchestra training and a year and a half of private instruction, so she already has a very strong base. The lessons on Schoolhouse Teachers are teaching the Suzuki method. They are wonderful lessons, and the lady is very engaging, but it was a little confusing for Chloe at the beginning. However, she persevered and is now enjoying the lessons.
"I think these lessons would be great for beginning violinists - but it was confusing for me since I already had experience. I liked seeing a new technique on how to teach the violin, though. It isn't as confusing to me now! I'm on lesson 15, and she hasn't taught me anything about notes - just strings - , but she's already taught me a song. It's pretty cool."
I have four school aged children, and we are using three different curricula this year to suit all their needs. Suffice it to say, it's gotten a little pricey! I can tell you right now that my budget for next year will not need to be such a worry, thanks to Schoolhouse Teachers. For $12.95 a month, or a yearly membership of $139, I can't imagine how much I'll be saving. We will definitely be utilizing this site for much more than electives.
JUST ANNOUNCED - Schoolhouse Teachers is having a HUGE sale now through Christmas Day: 40% off the monthly membership or 50% off the Yearly Membership. Those who join at this rate will be locked in FOREVER as long as they maintain a continuous membership - WOW!!!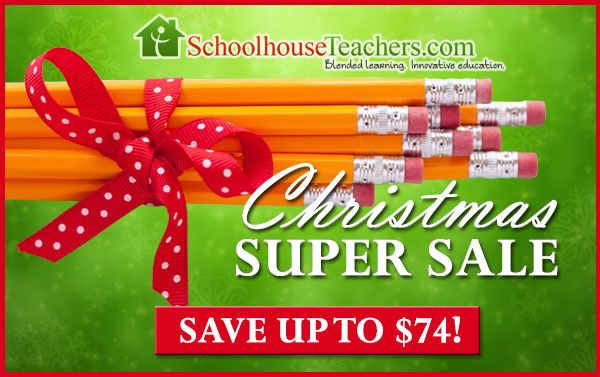 I can't begin to tell you how much is on this website. I can guarantee there is something for every family. If you would like to see more reviews on what Schoolhouse Teachers can offer you and your students, click on the link below and hear from some other homeschool families!

It is sure to be worth your time. Enjoy! :D